A 48-year-old off-duty lieutenant was shot in the leg after trying to help a fellow officer apprehend an armed man in South Philadelphia Friday morning.
Lt. Robert Friel was taken to Thomas Jefferson University Hospital, where he was undergoing surgery but "in high spirits," Deputy Commissioner of Organizational Services Christine Coulter said.
The ordeal began around 10 p.m. the night prior, when someone called police to tell them about a 50-year-old man who was suicidal, under the influence of drugs and armed with two handguns and a "high-powered" rifle, Police Commissioner Danielle Outlaw said.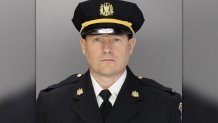 Around 6:45 a.m. Friday, a Philadelphia police officer spotted the man's car outside a CVS store near the intersection of 10th and Reed Streets. Friel, who was leaving work at the time but knew about the report, saw the first officer confronting the man and tried to help, Outlaw said.
The three made their way into the CVS, where a struggle ensued and the man fired a 9mm semiautomatic handgun, striking Friel in the leg, the police commissioner said. The man also managed to grab a hold of one of the officers' service weapon, firing at the ground.
No one else was hurt, and the officers managed to subdue the man and take him into custody, Outlaw said.
Local
Breaking news and the stories that matter to your neighborhood.
Standing outside the hospital where Friel was undergoing surgery, the commissioner also addressed current tensions around law enforcement after nationwide protests following the death of a handcuffed black man after a white police officer knelt on his neck in Minneapolis, Minnesota.
"Regardless of what tensions exist in the community, we still show up, we still fulfill our obligations to keep people safe, and that's what we'll continue to do," Outlaw said.
Mayor Jim Kenney praised Friel's actions in trying to help a fellow officer, despite being off-duty and on his way home from work.
"He stepped into harm's way to look out for another officer and wound up being seriously wounded. Thankfully, he'll be OK and I just want to wish his family the best and thank him and thank all of our officers for their dedicated service at keeping us safe," Kenney said.
Friel is a 28-year veteran of the force who is married with three children, Outlaw said. Friel's brother, Joseph Friel, was killed in the line of duty in the 90s after being struck by a drunk driver in Roxborough, she said.
Charges against the man who shot Friel are pending.
If you or someone you know is in crisis, call the National Suicide Prevention Lifeline at 800-273-8255 or text HOME to 741741.
There are additional resources for people or communities that have endured gun violence. Further information can be found here.