The region's biggest rainstorm in more than five months is likely in Philadelphia through early Sunday evening. The NBC10 First Alert Weather Team issued a First Alert for our region due to heavy rainfall and potential flooding from midnight through 5 p.m. Sunday. The heaviest rain will likely occur Saturday night into Sunday morning. It is focused on the I-95 corridor: Pennsylvania suburbs, Philadelphia, South Jersey, including Mercer County, and Northern Delaware. The flooding will most likely occur in poor drainage areas, low-lying areas, urban locations and along smaller streams.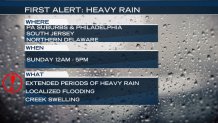 RAIN TOTALS
This is the region where the highest rain totals are likely between Saturday afternoon and Sunday night.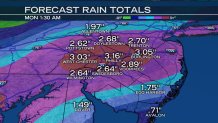 While each computer model forecasts a slightly different rain total, most are in agreement that areas around Philadelphia should see between 2-3 inches of rain, with isolated areas surpassing that range. The Shore and Southern Delaware will see the lowest totals, but still could see over an inch of rain.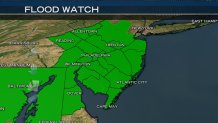 A Flood Watch is in place beginning Saturday evening, and lasts through Sunday evening, due to the flooding threat. The whole region is under the watch, with the exception of Sussex County, Delaware.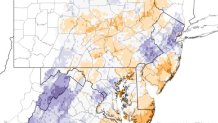 Take a look at the Flash Flood Guidance over a 6 hour period. Those areas shaded in purple can more easily see flooding. The map indicates these areas need to see between 0.5 inches and 2 inches of rain in a 6 hour period for streams to begin overflowing. This is possible particularly where bands of rain set up and continue to regenerate (something called training). We expect this to occur Sunday morning, which may trigger the flooding.
Local
Breaking news and the stories that matter to your neighborhood.
IMPACTS
The storm is expected to cause airport delays, localized street and highway flooding, and possibly highway closures at normal, flood-prone spots. Small street and river flooding is possible where the heaviest rain falls. Many outdoor activity cancellations are possible where the heavy rain band sets up shop.
TIMELINE
Saturday Night: Some pockets of heavier rain may produce isolated street flooding through 11 p.m. Saturday but widespread flooding is not expected. Temperatures will range from the 30s in the north and west suburbs to the lower 50s at the Jersey Shore.
The rain may take a brief break before midnight, but it then kicks into high gear. Heavier rain will move in, and likely be more consistently spread over the region.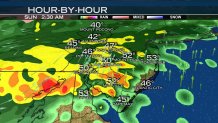 Overnight: This is a model snapshot around 2am Sunday.
Heavy rain will likely fall right along and near the I-95 corridor. Rainfall rates may reach 1 inch to 1.5 inches per hour. It's not out of the question for a few thunderstorms to develop as well. Look out for areas of street and urban flooding in the normal spots. Some smaller streams and rivers may also experience flooding before sunrise depending on rainfall amounts. There will be a huge range in temperatures for our region with the lower 60s in extreme South Jersey and Delaware, the mid-40s in Philadelphia and the 30s in the Lehigh Valley and the Poconos.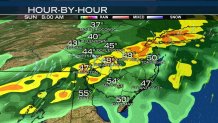 Sunday: There will likely be heavy rain and thunderstorms along a line from New Castle County, Delaware through the surrounding suburbs, Philadelphia and the South Jersey counties that border the Delaware River. An additional 1 to 3 inches of rain is possible with locally higher amounts. Areas in the Lehigh Valley and the Poconos may see upwards of 1 inch of rain and areas down at the Jersey Shore and Delaware beaches will see less than 1 inch of rain. There will be a huge difference in temperatures across the area Sunday. Highs will be near the 40s in the Poconos, the mid-40s in the Lehigh Valley, between 50 degrees and 55 degrees in the suburbs, the low 60s in Philadelphia and possibly the mid-60s in South Jersey and Delaware. There will be cooler temperatures along the immediate shorelines.
Don't make Sunday morning plans outside, and if you're driving to church or another activity, expect heavy rain to impact your drive. At this point, some ponding along roadways is likely.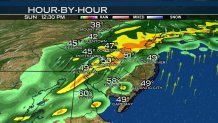 Notice this model continues to build bands of heavy rain over the I-95 corridor through noon Sunday. This type of rain will cause localized street and stream flooding.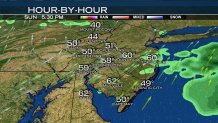 Ending Time: The heaviest rain should end after 5 p.m. Sunday. Another band of rain may form at the Jersey Shore and Delaware beaches late Sunday night into early Monday morning as well. This may produce additional flooding but it's unlikely at this point.
SUN: Periods of heavy rain, potential t-storms. High: 62 Philadelphia, mid-60s south Jersey & southern Delaware, 50s suburbs, 40s Berks-Lehigh, upper 30s Poconos.
MON: Mostly cloudy. High: 45
TUE: Mostly sunny. High: 43
WED (VALENTINE'S DAY): Partly to mostly sunny, turning much milder. High: 57
THU: Variable clouds, mild, a few showers. High: 63
FRI: Mostly sunny and cool. High: 47


First Alert: Timing and Totals for Heavy Rain u0026 Possible Flooding