The young woman seen on video getting punched twice in the head by a Wildwood, New Jersey, seasonal police officer on the first day of Memorial Day weekend turned down a plea offer Thursday.
Emily Weinman, 20, of Philadelphia, asked for pre-trial intervention, but the Cape May County prosecutor's office would only offer fourth-degree aggravated assault at an initial hearing. A guilty plea to that charge would likely result in probation.
But Weinman's attorneys said she adamantly denies assaulting any of the officers who arrested her May 26 for allegedly possessing alcoholic beverages on the beach.
Local
Breaking news and the stories that matter to your neighborhood.
"Under no circumstances do we believe Emily committed an aggravated assault on an officer," defense attorney Steven Scheffler said after the hearing. "Obviously, we believe that this whole situation could have been handled much better on both sides, quite frankly. And we're hoping that the prosecutor at some point in time understands that, shows some leniency."
Within hours of the violent encounter between Weinman and three seasonal police officers, video emerged from a witness showing the woman wrestled to the ground and punched by an officer.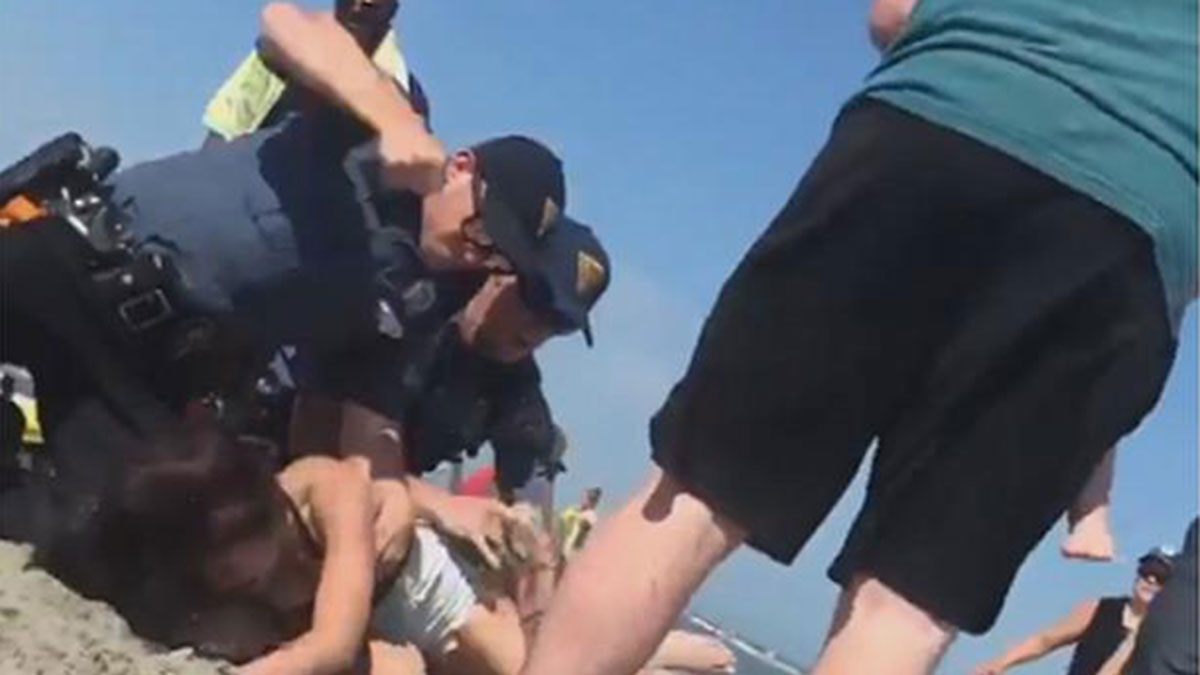 Days later, Wildwood police released several minutes of video footage from the officers' body cameras. Officials also said they were investigating the incident.
Weinman was initially hauled off the beach in handcuffs as her infant child sat nearby and charged with aggravated assault on a police officer, aggravated assault by spitting bodily fluids at/on a police officer, disorderly conduct, resisting arrest, obstruction and minor in possession of alcohol.
Wildwood Commissioner of Public Safety Tony Leonetti initially told NBC10 Weinman assaulted one of the officers first by kicking him in the groin and then running away, which the video does not show. Wildwood Police also say at one point Weinman spat at one of the officers.
In a Facebook post, which was eventually taken down, Weinman stated she and her friend were first confronted by two officers. While she admitted to being in possession of alcohol while underage, Weinman claimed she wasn't drinking at the time and that the alcohol was closed. She also said she took a breathalyzer test which came back negative. After the test, Weinman says the officers still stayed with her and one officer followed her as she walked away to make a phone call.
"Therefore I asked them don't they have something better to do as cops than to stop people for underage drinking on the beach, saying to that there's so much more serious stuff going on," Weinman wrote. "The cop said, 'I was gonna let you go but now I'll write you up' and he asked my name."
Weinman said she didn't give the officer her name because she "didn't do anything wrong." Weinman claims the officer then announced he was going to arrest her and walked toward her to place her in handcuffs.

"I tripped and fell and the cop tackled me to the ground and smashed my head into the sand," Weinman wrote. "At that point I blacked out and fought any way possible trying to get up and push him off me."
Weinman wrote that she was "partly wrong in a way" for not giving the officer her name but that she didn't want to do it because she was scared.
"Like I said I didn't do anything wrong and anything could've been written on that paper, the whole situation was iffy and I didn't trust it," she wrote. "Especially being aware of the fact of how grimy law enforcement can be now a days."
Weinman has faced charges prior to Saturday's incident, including simple assault and criminal mischief, according to court records.
Wildwood Police said an internal affairs investigation was immediately initiated on the incident and the officers involved were reassigned to administrative duty pending the outcome.
"Chief Regalbuto stated that while he finds this video to be alarming, he does not want to rush to any judgment until having the final results of the investigation," a Wildwood Police spokesman wrote.
The prosecutor's office eventually declined to charge the officers, who were identified as Class II special law enforcement officers Thomas Cannon, John Hillman and Robert Jordan.
Dozens of Class II SLEOs have walked the Wildwood beach over the years. They carry firearms and make arrests, but earn considerably less than their full-time, year-round colleagues. Pay for SLEOs in Jersey Shore towns vary by municipality. In Wildwood, SLEOs make $10 an hour.
That's just $1.40 more than the minimum wage in New Jersey. In fact, SLEOs make less than minimum wage while at the training academy, according to the Wildwood police department's website.
The use of seasonal officers, those cops who patrol Jersey Shore towns during the busy summer months, has come under scrutiny following the violent arrest of a 20-year-old Philadelphia woman on the Wildwood beach May 26.