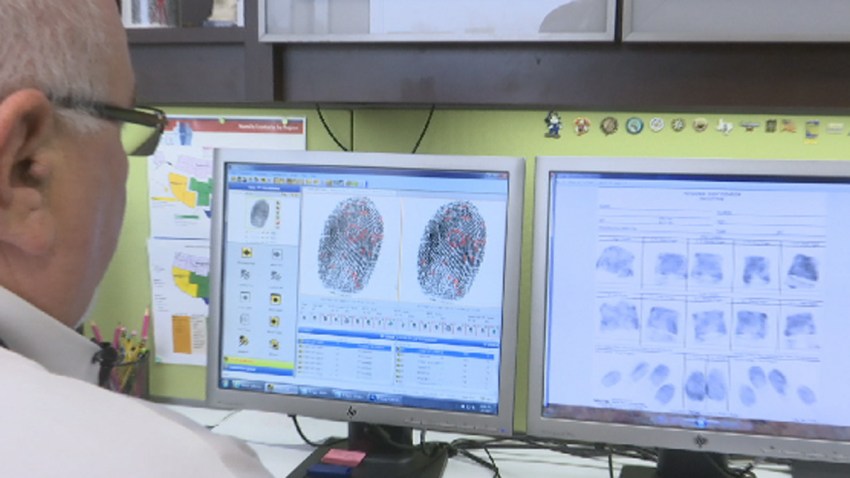 On any given day, there are an estimated 85,000 active missing persons cases in the U.S.
That is equivalent to wiping out the entire population of Reading, Pennsylvania. Some – like Philly-area couple Danielle Imbo and Richard Petrone and missing Delaware mother of three Nefertiri Trader -- vanish with few or no details to help family members and authorities figure out what exactly happened.
For families, the best hope of finding their forgotten loved ones may just be Todd Matthews, a shaggy-haired former factory worker with a thick southern drawl.
Local
Breaking news and the stories that matter to your neighborhood.
He runs a small, purposeful team who dedicate their lives to confronting "the nation's silent mass disaster." Working among some of the nation's best forensic investigative brainpower, Matthews got his start in the field as an amateur sleuth.
For 11 years, he worked on the factory floor, manually constructing car parts by day, and at night working tirelessly until he finally uncovered a victim's identity.
In 2011, he was tapped to be the Director of Case Management and Communications for the National Missing and Unidentified Persons System (NamUs).
At the University of North Texas Health Science Center in Fort Worth, where NamUs is based, Matthews heads down a white-walled hallway, the click of his cowboy boots echoing as he passes laboratories filled with rubber-gloved researchers evaluating bone fragments and tissue samples.
"We struggle daily," Matthews, 44, said. "There's a lot of work. More work than people realize."
But it's difficult to say exactly how much work considering the vast discrepancies between federal investigators' and NamUs' missing persons records. The FBI has files on at least 85,000 people considered missing in America, NamUs puts the number just under 11,000. How is it possible for the two to be so far apart on such a critical number? The answer reveals a classic case of good intentions, but poor execution on several levels.
When NamUs was created by the Department of Justice in 2007, the goal was to establish a publicly available clearinghouse exclusively dedicated to resolving missing persons and unidentified remains cases.
"People are found alive," he said, recalling three Ohio women who were found in 2013 after a decade of captivity. "Are there other people like that out there? Very likely, I just don't want people to have false hope."
He's referring to the estimated 40,000 deceased people -- their identities unknown -- buried in unmarked graves, cremated. or housed in medical examiners' and coroners' offices across the country. That is more than 13 times the number of people killed on 9/11.
Described as passionate by nearly everyone in the field, Matthews starts his at least 12-hour workday at 6 a.m. Unable to set his work aside after-hours, he'll take calls from distraught family members seeking advice late into the evening.
He heads a group of 20 like-minded individuals, each with a dogged commitment to relieve the gnawing pain plaguing families who have no idea where their loved ones could be or how they vanished.
Yet the likelihood families will receive any answers on their loved one is slim as NamUs struggles to connect the dots on thousands of patchy missing persons cases throughout the country.
A lukewarm reception from law enforcement, minuscule budget and fragmented national objective hamper Namus' ability to solve cases and make it doubtful the resolutions families yearn for will ever come about.
At least five times a year, Matthews steps away from his basement office in Livingston, Tennessee -- located about 100 miles northeast of Nashville -- and spends a week at the UNT Health Science Center campus, where about half the NamUs team works.
Some handle administrative tasks, while others extract DNA from bones, examine dental evidence, or assess fingerprints.
Scattered around the country is the rest of the staff, including seven Regional System Administrators or RSAs who manage up to nine states worth of NamUs case files.
On Matthews' most recent trip to Fort Worth in mid-January, he hunkered down in a drab 6th floor conference room with B.J. Spamer, NamUs director of training and analysis.
A certified Mensa member on her way to a second master's degree, Spamer's appearance mirrors her approach to work -- she is focused on the essentials and doesn't get distracted by the frills.
Conservatively dressed with a makeup free face, Spamer has dedicated her entire career to missing children and adults.
The East Coast transplant manages reports -- like grant tracking, develops and implements programs to train law enforcement to use NamUs, and offers investigative guidance, among other duties.
She says about 5,000 of NamUs' 12,000 registered users are medical examiners, coroners or other criminal justice professionals.
Yet that only accounts for a small portion of the professionals who work at the estimated 18,000 law enforcement agencies in the U.S.
"We would like more users in the system," she said. "The more cases that we get, obviously, the more chance of a resolution."
"We find law enforcement every day that didn't know about us," Matthews said.
However, he argues efforts to recruit full participation from all the nation's law enforcement agencies would be misguided since rural police departments often do not have a single missing persons case.
Back in the greater Philadelphia area, many investigators with local, municipal and state law enforcement agencies have an account, but don't necessarily rely on NamUs to solve cases.
"We have a forensic anthropologist who uses it and we are well acquainted with it," said New Jersey State Police Lt. Louis Andrinopoulos, who heads up the missing persons unit. "It is not the end all of anything, it is just another tool."
Spokesmen for State Police in Pennsylvania, New Jersey and Delaware confirmed their investigators have access to and use NamUs, but the database is not the go-to tool in their arsenal.
"From NCIC, you get a lot more information," added Pennsylvania State Police Cpl. Rob Levan.
NCIC, or the National Crime Information Center, is an electronic index of crime data, overseen by the FBI since its launch in January 1967 and only available to federal, state and local law enforcement and other criminal justice agencies.
But the information seldom gets passed along to NamUs, a big reason the FBI reports 84,924 active missing person records as of Dec. 31, 2014 while NamUs currently has 10,985 in its system.
With nothing in place to aid the transfer of information, it is unclear NamUs and NCIC will ever match.
There is no mandate requiring law enforcement to add the cases to NamUs and there are no guidelines, like period of time missing, to direct police as to when they should enter case files to NamUs.
"It is a huge problem," Matthews said. "There is no way to avoid it. I don't know any way to expedite it."
He suggests the FBI numbers are inflated, describing particular instances that would be needless NamUs entries like runaway teens who police know are safe and just hiding from parents.
Despite the confusing figures, Matthews is unwilling to develop criteria for NamUs entries, saying they could create barriers for submissions that do belong in the system.
Regardless he insists NamUs is preferable to NCIC for missing persons cases.
"NCIC doesn't have follow up," he said. "NamUs follows up, checks in several times a year. …These files are in a constant state of update."
The RSAs attempt to fill in the blanks on cases in their region, seeking out missing biometric data.
But the sheer volume makes it seem nearly impossible to perform periodic checks on every file. For instance, the RSA for Region 5 -- Pennsylvania, Ohio, West Virginia, Indiana, Illinois, Kentucky and Tennessee -- has more than 1,100 missing persons and 400 unidentified remains cases to track.
Before adding more RSAs, Matthews is organizing the development of NamUs 2.0, which he said will streamline case management tools and improve the system's investigative abilities.
No timeline has been set for 2.0, but he said he hopes the refined database will allow his crew to work "smarter not harder" by sometime next year.
Until then, some of the work falls to the general public and victims' relatives, who represent the remaining 7,000 registered NamUs users. They can update case details, which are then verified with authorities before the file is officially changed, Spamer said.
"We've had family members come to the NamUs system and literally resolve their own case," Spamer said at the end of a nearly 14-hour workday.
The system continuously cross-references missing persons with the unidentified remains files, she explained, but there are some connections only a person can make, like identifying tattoos or scars.
"[NamUs] is searching on basic demographic information, height, weight, age, geographic information on where that person was found," she said. "It could literally come up with 150 matches."
The inclusion of biometric data, like fingerprints, dental records and DNA, cuts down on the additional analysis needed to close the 10,954 missing persons cases nationwide, and the 528 in our tri-state region, that are still open.
This contributed to NamUs launching a state-of-the-art fingerprint database in mid-August 2014.
"We got our first association, our first identification, in October 2014," said William "Bill" Bailey, NamUs fingerprint supervisor, sitting alongside three computer monitors that help compare the prints' unique identifiers.
In 2013, a medical examiner from Pima County, Arizona uploaded the postmortem fingerprints of an unknown man killed in a car crash in 1992. Once the latest NamUs fingerprint database went live last fall, it determined they matched fingerprints provided by the Phoenix Police Department for a missing person. More than 22 years after Ismael Ortiz Elias disappeared, NamUs was able to give his family and friends some peace of mind.
"This is the only system that houses and searches on a continuous basis the missing person fingerprints against the unidentified person fingerprints," explained Bailey, whose patient temperament and congeniality gave off a grandfatherly air.
"Fingerprints never change," he said, disclosing he took fingerprints of his grandchildren before each turned 9 as a precautionary measure. "They begin to form around the third week of gestation and they remain, sometimes, far after decomposition has set in."
Aside from Elias, there has been one other fingerprint match -- a homeless Texas man, who died last year unaware of his name after a stroke and bouts of mental illness.
The small number of matches stems from a shortage of data -- only 1,063 missing persons and 1,103 unidentified remains cases have a fingerprint card in the original NamUs database -- and the poor quality of some of those images, Bailey said.
Further complicating the mission is the inability to easily move what they have on the old system to the new. Bailey and others must download each fingerprint card and then upload and enhance them -- a process that can take from five minutes to several hours if they have to contact the original submitter.
Even though updating the forensic side is incredibly time-consuming, Matthews said it is worthwhile because it will eventually turn NamUs into a "one-stop shop" for missing persons investigators and victims' families.
"We're going to keep building until we get to the point it's …an optimal performer," he said.
Forensic analysis performed by NamUs staff, like Bailey, and tips going directly to the system have contributed to the resolution of 910 missing persons cases since 2008 and 428 unidentified remains cases since 2007.
Yet those numbers could be even higher since NamUs leaves it up to each investigative agency to decide whether the system contributed or not.
Even so, the numbers seem paltry when compared with the 10,954 missing persons cases and 10,177 unidentified remains cases still open across the country.
"We don't make thousands of identifications every year. It's a couple hundred," said Arthur Eisenberg, NamUs principal investigator and a pioneer in the field of DNA analysis. "It's a very slow, methodical process."
But missing persons cases pose unique challenges -- they often lack crime scenes and forensic evidence -- making it even more difficult to find a resolution, added Eisenberg, a New Yorker turned Texan and a true academic, elaborating in detail on his various DNA work.
Delaying resolutions further is the sparse data within many files, plus the large number of cases that have never even been entered into the repository.
"We need to get as much information as possible and time is of the essence," Matthews said. "We need to know: Are there fingerprints? Are there family reference samples of DNA? Do you have dental records and where are they?"
His questions insinuate the worst for relatives -- many of whom still have hope of finding their missing loved ones alive. The incredibly rare occurrence happened last November for the family of Philadelphia woman Carlesha Freeland-Gaither.
"Just because we're looking for biomedical data doesn't mean your person is deceased," he explained. "Although we're preparing them for the worst, we always encourage them to hope for the best."
Eisenberg paints a somewhat grimmer picture.
"Typically when we're involved, it's the worst case scenario," he said between calls at his desk, cluttered with papers, files and reference books. "They've waited 30 years and now they find that we've identified their loved one, but they're dead."
It might not be the resolution anyone wants, but many relatives -- like those of Danielle Imbo and Richard Petrone -- say not knowing is more painful.
"I couldn't even imagine for a minute not knowing where any of my daughters or my grandkids were. If they're gone, I'd be a basket case," Eisenberg said. "That has to be the absolute worst feeling."
"So our job, and we take it very seriously, is to try and make sure that doesn't happen," he said.
Another organization handling a similarly dire issue is the National Center for Missing and Exploited Children (NCMEC).
The 21-year-old private nonprofit got its start after several high-profile disappearances of children, like Etan Patz in 1979 and Adam Walsh -- the son of "America's Most Wanted" host John Walsh – in 1981, revealed a lack of coordination among state and national investigators during search efforts.
In 2013, NCMEC used $13.1 million, just 30 percent of its total revenue and support for the year, to manage missing children cases, according to its latest annual report. Those funds aided in the collection of DNA, dental records and other biological identifiers. NCMEC also develops age-progressed photographs of the missing.
That same year NamUs, which incorporates the missing persons cases of both kids and adults, operated on $2.25 million. In 2014, NamUs had a budget of $3.75 million -- funds that came from a NIJ grant, which must be re-upped annually.
Both Matthews and Eisenberg express confidence the system will continue to receive NIJ support, saying NamUs has made huge leaps since they took over in 2011 and they are filling an important need in the country.
"They're very few labs in the country that have the type of capability that we bring to bear on this particular problem," Eisenberg said. "It's probably less than half a dozen agencies that have the combined capabilities to do what we do."
"We are providing hope for families and I don't think families would allow NamUs to be gone," Matthews said. "I don't think we are going away."
But with no dedicated source of funding, there is no guarantee.
The disparity in funds comes as no surprise to Jan Smolinski, the mother of Billy Smolinski who went missing in 2004 at 31-years-old and whose first name became the colloquial moniker for the Help Find the Missing Act.
"It is a huge problem. Missing children get immediate attention and missing adults don't," Jan said. "I know children are important, but why the focus on children? It should be for children, teens, adults and elderly. I really feel no one is exempt and everyone should have a chance at life."
Like Walsh, Jan was shocked by the ineffective methods for collaboration among investigating agencies. She appealed to lawmakers in her home state of Connecticut, where her efforts eventually led to the creation of Billy's Law.
The law would mandate better collaboration between NCIC and NamUs, secure funding for NamUs through 2020 and establish best practices for municipal, state and federal law enforcement agencies.
More than five years and two versions later, Billy's Law has yet to be passed.
"We are having a little difficulty because missing persons don't have the attention that other bills do. I'm not sure why," Jan said.
It's possible that the factors surrounding various cases -- mental illness, addiction, a criminal history, along with superficial characteristics, like how attractive or affluent the missing person is -- impact the public's concern, and in turn, the media's coverage.
"We have some victims who are involved in prostitution, drug use," Spamer said. "As far as we're concerned, every one of those individuals has a left-behind family and that's our focus."
In Billy's case, speculation over his Aug. 24, 2004 disappearance pointed to a love triangle gone wrong. The circumstances could also lead to the conclusion that the Smolinskis' only son simply chose to leave his life in central Connecticut behind, although that possibility is far less likely.
"An adult has the luxury that if they want to go away, they can go away," Matthews explained.
"But when you have a paper trail that completely goes missing, bills unpaid, cars left behind, your personal items left behind, there's something wrong," he said. "Somewhere there's something wrong."
The inexplicable injustice echoes in the hearts of tens of thousands of Americans as Matthews, Eisenberg, Spamer and Bailey say they are making progress, case by single case.
"What else can you do to drive this forward?" Matthews asked. "I don't know how much more I can do."
---
Contact Alison Burdo at 610.668.5635, alison.burdo@nbcuni.com or follow @NewsBurd on Twitter.