A possibly intoxicated 22-year-old Temple University student in town to celebrate her birthday drove her BMW into a Florida police officer and was killed by another officer in Miami Beach in front of a crowd of stunned onlookers, police said.
Cariann Hithon of Bowie, Maryland, slammed into several cars Sunday evening as people watched from sidewalk cafes in the tourist district known as South Beach.
Video footage showed people standing around the wrecked car, wondering aloud what had happened. Then the BMW suddenly started moving again and took out the officer standing in front of it. Another officer fired three shots into the car.
"It played out like a movie set with people running, screaming, car crashes, gunshots, an injured officer lying on his back on the ground — all within a minute," retired Miami-Dade homicide detective John Butchko, whose car Hithon hit, told the Miami Herald.
Butchko's passenger, Miami Beach lawyer Sean Ellsworth, added: "I was literally shocked she would drive into four or five officers. She just floored it." Ellsworth and Butchko suffered minor injuries.
"One of the cops was in front of the car and when they were yelling at her to get out of the car, she just started the car again," witness Miguel Garcia said.
Police officers then fired several shots at Hithon's black BMW, striking her. Cellphone video captured the moment as her car crashed half a block away then as officers rendered aid.
Local
Breaking news and the stories that matter to your neighborhood.
Both Hithon and the officer were taken to Jackson Memorial Hospital's Ryder Trauma Center, where the woman later died.
The officer, later identified as David Cajuso, was hospitalized in stable condition and later released.
Police haven't released the name of the officer involved in the shooting, which remains under investigation.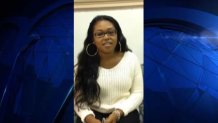 Hithon, from Bowie, Maryland, was in South Florida celebrating her 22nd birthday, a family member told NBC 6. She transferred to Temple University this year and was studying political science and philosophy.
"It's hard to express the amount of pain and distress that we feel," Hithon's father, retired U.S. Navy Capt. Cary Hithon, said. "I can't explain why she wouldn't have listened."
The reason Hithon tried to flee may never be known. But investigators said they believe Hithon and her male friend — who was seen by witnesses casually getting out of the car before she accelerated — may have been drinking heavily earlier Sunday.
Miami-Dade police detained that man, 22-year-old Ryan Jerrell Lucas, for questioning, according to a news release. Lucas and Hithons were friends from church in Maryland. He traveled to Miami to mark the special occassion, sources told NBC.
The elder Hithon said he has many questions about what happened. The account of events given to him by police does not sound like his daughter, he said.
"That kind of activity is not rational, I can't explain why she wouldn't have listened to commands," he said. "As a father and as a man of God, obviously I want the truth to come out."
While attending Hampton University, Hithon had contact with police at least six times and was charged with misdemeanor assault and battery, marijuana possession and falsely identifying herself to a police officer, according to court records. None of those charges ended in a conviction.
She was found guilty of speeding in December 2015 and improper control while driving in March 2016. Her license was also restricted for six months in 2016 to driving to and from work and church in relation to a marijuana possession charge in March of that year.
In Maryland, she was also charged with several motor vehicle offenses in 2015 and 2016, including speeding, driving with a suspended license and giving a false name to police.
But Hithon's father said his daughter aspired to be a lawyer one day.
"Being an attorney to help the underserved is something she wanted to do," her father said. "She would have been a good one."
The Temple Student Government released a statement saying that "our thoughts are with Cariann's friends and family during this tremendously difficult time."
Earlier this year, recent Temple transfer Jenna Burleigh was killed after a night of drinking with friends in North Philadelphia. The doubles tragedies have not unnoticed on campus.
"This has been a painful semester, Owls. We Know. We hear you. We see you. We support you," the student government said. "We will continue to push unity and peace through these times because pain is always easier to deal with when you have people surrounding and encouraging you."
Copyright AP - Associated Press