UPDATE: Officials say Gould surrendered to police Wednesday night. New details here.
---
A suspected gunman wanted in the execution-style killing of a Bucks County man police say was fueled by a love triangle has been spotted in Pennsylvania, authorities said on Tuesday.
Police on Tuesday released a new photo showing the Chevy Silverado they say Jeffrey Gould, 33, of Bensalem, is driving. Gould is wanted on a murder warrant for allegedly executing 33-year-old Edward Dubinsky on Dubinsky's front porch in Jamison, Warwick Township, on Wednesday.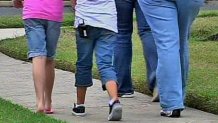 Someone spotted the champagne-colored Silverado, which Gould is believed to be traveling in along with Zannatul "Asha" Naim, the woman allegedly involved in the love triangle, in Mechanicsburg about 11 a.m. on Monday, according to police. Mechanicsburg is about two and a half hours west of Philadelphia, just beyond Harrisburg.
Gould and Naim haven't been seen since the sighting Monday, police said, but investigators believe they could now be in the Philadelphia area.
Local
Breaking news and the stories that matter to your neighborhood.
Police said when someone saw the truck in Mechanicsburg, it had a stolen Pennsylvania license plate with tag YWG-7965. They said that plate was stolen on Thursday in Frederick County, Virginia. Police said on Monday that Gould fled to North Carolina in the truck, which had a New Jersey license plate last week, after Dubinsky's murder.
Warwick Township Police Chief Mark Goldberg and Bucks County District Attorney David Heckler said an investigation into Dubinsky's killing after a neighbor found him dead revealed that Dubinsky and Gould had been involved in a love triangle with 30-year-old Naim. Naim, of Warwick Township, lived with each of the men at some point in time, Heckler said.
Heckler said investigators aren't aware of any particular incident that sparked the murder, but said the trio had a history of contact.
"Nothing specific or dramatic [happened] that we're aware of. I think there had been a certain amount of communication and friction back and forth," Heckler said.
The tension came to a head Wednesday night, when police say a neighbor reported hearing "a loud bang" about 11:30 p.m. Dubinsky was found dead on the porch the next morning. A neighbor told police a white Mercedes -- later identified as Naim's car -- left the scene Wednesday night, but police said they believe Gould switched vehicles to the champagne-colored 2001 Chevy Silverado with an extended cab before he fled. The truck also had heavy damage to the passenger side of its bed.
Heckler said police obtained an arrest warrant for Gould after a person he met with when he arrived in North Carolina after the murder told police Gould confessed to killing Naim's ex-boyfriend.
He urged Gould to surrender to police, and Naim to come forward to provide information. There are currently no charges pending against Naim, he said.
"We would like very much to talk to her," he said. "I urge her as well to contact the local police department wherever she is."
He said Naim and Gould should be considered armed and dangerous, and that ballistics from the scene of the killing matched shell casings found when detectives served a search warrant on Gould's apartment in Bensalem. They believe he's armed with a Smith & Wesson 9mm handgun.
Anyone with information on Gould and Naim's whereabouts should contact authorities at 215-343-0100.