SAFFIR-SIMPSON SCALE IS NOT THE TEN COMMANDMENTS
I'm getting more than a little tired of this common consensus: "There's no reason to change the Saffir-Simpson Hurricane Scale."
For crying out loud, it's been around for almost 40 years. What hasn't changed in science in the past 40 years? Not much.
I've already made my case to add a Category 6 (currently, Category 5 is the highest level) — a suggestion that has gotten hurricane experts reacting like we were proposing to abandon science itself. But there are serious scientific reasons to do it:
FLORENCE, HARVEY, SANDY, KATRINA SHOW WHY
There actually was a change in the 1971 Saffir-Simpson scale in 2009. Yes, they made it WORSE. After all, isn't the bottom line to get the public to understand what is about to happen, and what the danger will be?
Of course, a Category 5 is the worst-case storm. Unless it isn't. Like when a former Category 5 Katrina in 2005 caused a record storm surge in Mississippi and the disastrous flooding in New Orleans AFTER IT WEAKENED to a Category 3.
It's a whole lot simpler to think that a Category 5 is now a Category 3, so the danger has lessened significantly, right?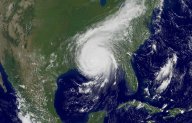 It's not just the average person who gets confused.
Local
Breaking news and the stories that matter to your neighborhood.
In 2012, the Mayor of New York City told the world that former Category 3 Hurricane Sandy had now weakened to a Category 1, so the danger was less. I remember it distinctly, because I was yelling at the TV as he said it.
Fortunately, I was able to get on TV at NBC10 in Philadelphia and correct him for the folks in South Jersey. But he had already done his damage. And this is an obviously smart guy, with lots of smart people advising him. If Mayor Bloomberg didn't get it, how could others?
Sandy also caused major problems with communication when it was changed from a Category 1 hurricane to a Post-tropical Cyclone.
Everyone outside of the meteorology profession probably said-or thought: 'What the hell is a Post-Tropical Cyclone?'
Was the impact of the storm going to change at all? NO!
So, why did they have to confuse the public as the most important storm in their lives was about to hit?
I had to spend a lot of my time on-air explaining the type of storm that I could have spent on the dangers. And I told the Director of the National Hurricane Center that loudly and publicly at the AMS Hurricane Conference the next year (and got the biggest applause of the conference).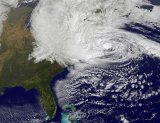 Harvey and Florence were similarly misleading hurricanes. They both weakened as they approached landfall, leading to confusion.
I saw stories of more than 1,000 people who had already evacuated in North Carolina going back to their homes specifically because Florence had weakened. The rainfall and flooding forecasts hadn't changed. But the storm category is an easy thing to remember.
And in many cases, it's the wrong thing to remember.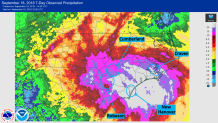 SO, HOW DO WE FIX THIS?
There are three main threats to life and property from hurricanes: storm surge, wind, and rainfall. The change to the scale in 2009 was to remove storm surge from the category calculation. Not a good move.
Different hurricanes have different main threats. Some, like Florence and Harvey, have rain as the main threat. Hurricane Ike had the storm surge. And Hurricane Andrew had the wind.
Here's my simple suggestion: A HURRICANE'S CATEGORY SHOULD BE AS HIGH AS THE MAIN THREAT.
So, Harvey would have been a Category 5 for rainfall; Katrina would have stayed as a Category 5 for storm surge. Once the category number is announced, it would be followed by explanations of the other threats.
But the most important thing-the category-would be easily remembered. Communication, isn't that what we're after?