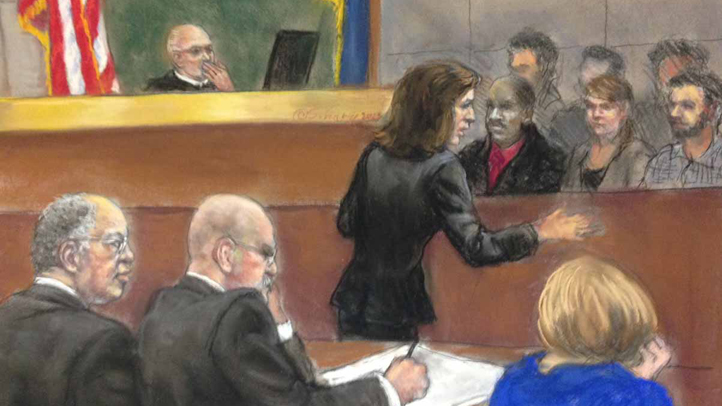 After five weeks of difficult and gruesome testimony, the prosecution rested in the murder trial of Dr. Kermit Gosnell. Defense attorney Jack McMahon will now have the chance to lay out his case to the jury. Here's a look back at the courtroom action from week five. For more of our extensive coverage from inside the courtroom, click here.

Abortion Doctor Joked Baby was Big Enough to Walk Home: Testimony
The most gruesome testimony was saved for last by the prosecution before they rested their case. Kareema Cross, 28, described to the jury how she would witness babies breathe and move after delivery, before being murdered with the snip of the spinal cord. Cross recounted how she watched one baby struggle after being delivered into the toilet. She also told jurors about how Gosnell allegedly joked one baby was so large and developed, he could have walked home.
READ MORE


Final Witnesses for the Prosecution
Before Cross testified, former co-worker Latosha Lewis took the stand. The 31-year-old testified how she used to give patients anesthesia, even though she was only trained as a medical assistant. Lewis says she stopped assisting with abortions at the Women's Medical Clinic, Gosnell's West Philadelphia practice, in 2008. But she continued handing out medicine at the front desk.
READ MORE

President Obama Talks About "House of Horrors" Trial
The "House of Horrors" trial started getting national media attention four weeks into the proceedings, prompting questions to President Barack Obama. In an exclusive interview with the TODAY Show's Savannah Guthrie, Obama said he was "familiar" with the trial. He went on to say he couldn't comment further because the trial was ongoing. Obama did, however, share his views about providing abortions and how those medical professionals who break the law should be treated.
READ MORE
Local
Breaking news and the stories that matter to your neighborhood.

Woman Survived War, Died After Gosnell Abortion
The daughter of Karnamaya Mongar, the woman who died after receiving a lethal dose of pain killers and anesthesia during a 2009 abortion, testified about her mother and the procedure. Yashoda Gurung recalled her family's life in a refugee camp in Bhutan before emigrating to the United States. The 26-year-old told the jury, through a translator, how her mother complained about pain during the procedure. Gurung also witnessed firefighters having to cut bolts off of the clinic's emergency door to allow EMS crews inside.
READ MORE

Philly M.E. Not Sure if Babies in Abortion Clinic Were Born Alive
The pillar of the prosecution's first-degree murder case against Gosnell is the assertion that the babies he's charged with murdering were delivered alive. However, Philadelphia's chief medical examiner told the court he couldn't be certain that they were. After examining 47 fetuses stored in freezers inside Gosnell's West Philadelphia clinic, Dr. Sam Gulino testified three fetuses had the possibility of viability. But he could not say for certain if they were alive.
READ MORE

Kermit Gosnell is charged with murdering seven babies by snipping their spinal cords after delivery. The 72-year-old faces first-degree murder charges in those instances. Gosnell is also charged with third-degree murder in the death of Karnamaya Mongar.
NBC10.com has been covering the Gosnell "House of Horrors" trial extensively. We have daily reports from inside the courtroom. Visit our "House of Horrors" section for more.
---
Contact Vince Lattanzio at 610.668.5532, vince.lattanzio@nbcuni.com or follow @VinceLattanzio on Twitter.