The suspect wanted for two shootings, including one in Delaware County, Pennsylvania that left a man dead, is considered armed and extremely dangerous, police said Tuesday afternoon as the search for him intensifies.

Philadelphia Police Lt. John Walker said city and Delaware County detectives and U.S. Marshals are searching for 24-year-old Derrick Rollins. They believe he is somewhere in the city, but so far searches of two addresses linked to him have come up empty.
Rollins is wanted for the killing of 29-year-old John Le. The Narberth man was gunned down Saturday evening in Haverford Township.
Le was leaving a pizza shop on 2300 block of Haverford Avenue on Saturday when a man police allege is Rollins shot him. Surveillance video captured a man in a red hoodie fleeing the area in a gray car.
Police believe the same man fired 17 shots at two people in Philadelphia's Overbrook Park section about 45 minutes before Le's killing. In that incident, Walker said one of the victims approached Rollins after seeing him look into the windows of his home. An argument between the homeowner and Rollins ensued before Rollins allegedly starting firing, Walker said.
Detectives are classifying the incident at this point as a random attack.

"This guy is a dangerous individual and we're not sure what he'll do at this point, so we need to get him off the streets," Walker said, adding that detectives believe he may still have the .40-caliber semi-automatic handgun used in Le's killing.
Earlier Tuesday, police in West Philadelphia located the suspect's gray Volvo SC60 sedan parked along the 5100 block of Locust Street. They impounded the car.
Walker said police located the car thanks to a tip from a resident of Haverford Township. On Sunday, the tipster saw the Volvo speeding toward Philadelphia and recorded a partial plate number. Police were able to hone in on the vehicle and tie it to Rollins, Walker said.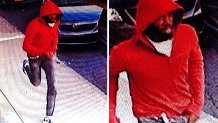 A $5,000 reward is still being offered for the arrest and conviction of the suspect. Walker advised Rollins to turn himself in and for anyone with information to call in a tip.

Anyone with information is asked to contact the Haverford Township Police Department at 610-853-9213 or the Citizens Crime Commission at 215-546-TIPS.