What to Know
Two brothers died when gunfire went into their Trenton, New Jersey, home late Tuesday night.
The 8-year-old and his 16-year-old brother were struck by bullets that came from outside the home, Mercer County investigators said.
Police searched for clues outside of the Mulberry Street home.
Gunshots went into a home in Trenton, New Jersey, Tuesday night, killing an 8-year-old boy and his 16-year-old brother.
The brothers, Johnny Perez and older sibling Gustavo Perez, were inside a home on the 200 block of Mulberry Street around 10:30 p.m. when at least one gunman opened fire, the Mercer County Prosecutor's Office said.
Bullets entered the second floor of the home, killing the children. Johnny was shot once in the neck and Gustavo once in the chest, Trenton Police Director Sheilah Coley said.
The boys' mother and another sibling were inside the home when the gunfire broke out, but they were not wounded, Mayor Reed Gusciora said.
Both the mayor and police director said they believed it was a targeted shooting based on the bullets being fired in close proximity to a window, but did not elaborate beyond that.
"There was some type of family gathering beforehand," Gusciora said. "Whether that's a direct link, that remains to be seen."
No arrests were made as of Wednesday morning. Trenton Police and the Mercer County Homicide Task Force were investigating. Officers holding long rifles and K-9 team could be seen searching the neighborhood.
A car could be seen being towed from the scene Wednesday morning before daybreak, and prosecutors were reviewing nearby surveillance video, Coley said.
As the investigation continues, family members are trying to make sense of the tragedy.
"I'm not gonna see them no more," Antonio Perez, the victims' older brother, said. "I lost my two little brothers over some stupid war that's going on out here."
The brothers are now the 33rd and 34th homicide victims in Trenton this year.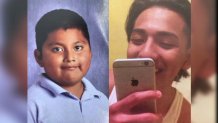 Councilwoman at large Kathy McBride and other members of "Mothers Against Violence" gathered near the crime scene Wednesday afternoon to demand answers. All of the members have lost loved ones to gun violence.
"We need to know what the comprehensive plan is to combat this type of violence," McBride said. "We can't keep making excuses. Our babies are falling to their grave, with bullet holes riddled into homes. If you can't be safe in your own home, where can you be safe at?"
Anyone with information is asked to call 609-989-6406 or email mchtftips@mercercounty.org. Confidential tips can also be submitted at 609-989-3663.
"We are reaching out to the community to cooperate so we can get the people who perpetuated this crime," Gusciora said.
Correction Oct. 21, 2020 at 6:50 a.m.: The Mercer County Prosecutor's Office said it mistakenly identified the gender of one of the siblings. Both siblings were boys.