March 2018 will go down as the month of the nor'easter. Another storm is forming for next week -- and has the potential to deliver heavy rain, wet snow and sleet to our area starting Tuesday morning.
The First Alert Weather team has issued a first alert for the entire area from Tuesday through Wednesday for the storm, which could also bring strong winds and coastal flooding.
First Alert Meteorologist Steve Sosna called it "raw, ugly March weather." And, he warned, the storm will come in waves that could seem exhausting to a region still recovering from three previous storms.
"Instead of one big storm, this storm comes in little bits or chunks," Sosna said.

Here's what we know now:
The track of nor'easter No. 4 will take an eerily similar path to two other storms: The first and second nor'easters of this recent, punishing series, which had tracks close to the coast. Unlike nor'easter No. 3, which traveled further offshore, nor'easter No. 4 looks to hug the East Coast and move slowly.
The exact track and intensity of the storm as well as the duration will determine how severe the impacts are to the area. Current models are forecasting a storm starting Tuesday morning as rain at the Jersey shore and Delaware beaches, and as a mix of rain and snow in Philadelphia. The greatest chance of heavy wet snow falling comes for the Pennsylvania suburbs and South Jersey.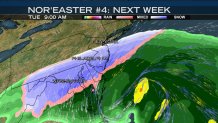 By mid-morning on Tuesday, the storm is heavily affecting our area. Notice the wind arrows pointed toward the coast. That raises the concern of moderate coastal flooding. We are in a new moon phase, which makes the coast even more susceptible to coastal flooding during intense storms like nor'easter No. 4.
You should know, it's incredibly hard to get snow to accumulate on paved surfaces in late March, but two factors can make that happen:
1. Snowfall rate
2. Time of day snow falls.
By the way, spring officially arrives Tuesday at 12:15 PM.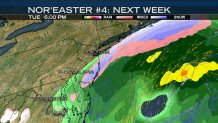 By Tuesday evening, the storm is changing to rain, but that could leave roads messy.
Temperatures will be very chilly for early spring Tuesday and Wednesday. Highs may not escape the 30s, with lows in the upper 20s and lower 30s.
Though it initially appeared that the storm could stretch into Thursday, now, the duration seems a little shorter. As the storm approaches next week, its timing will become clearer.
Local
Breaking news and the stories that matter to your neighborhood.
It's important that you check back for updates this weekend on the storm both on-air and on our NBC10 App and website. We will be giving you the latest information on changes with the storm's timing, intensity and impacts.