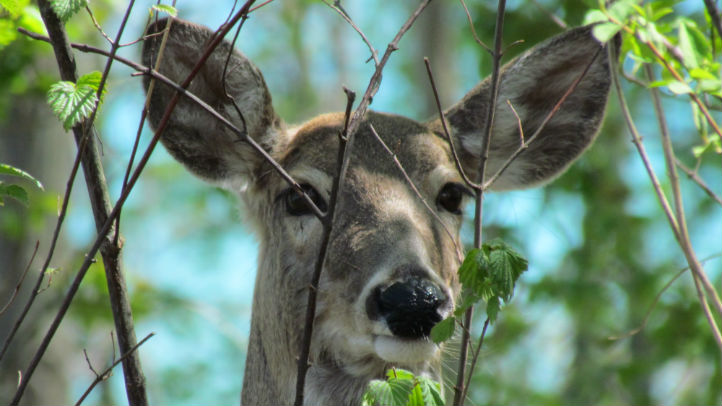 A deer that found its way onto the PATCO train tracks crossing the Benjamin Franklin Bridge caused service delays on the high-speed line Wednesday morning.
PATCO officials told passengers that the wild animal somehow got access to the eastbound set of tracks, which run along the side of the suspension bridge that spans the Delaware River, on the Philadelphia side around 11:30 a.m. Wednesday.
The deer may have entered the line through an interchange in Old City Philadelphia, officials said.
A train conductor was able to stop the train and avoid hitting the deer, but it then jumped into the roadway on the bridge and was hit by a vehicle, according to PATCO. The deer did not survive.
Trains were delayed by nearly 30 minutes as crews worked to clear up the mess.
Local
Breaking news and the stories that matter to your neighborhood.
Jeremy Behrens saw the deer.
"I was ready with my camera," he said, but "Deer was eastbound and I was westbound."
Behrens gave a heads up to other riders via Twitter:
@PatcoWatchers you will never believe the reason for the delay right now on @RidePATCO. A live deer on the bridge on the east bound tracks — Jeremy Behrens (@JeremyBehrens) April 30, 2014
PATCO called the incident "highly unusual."
@JeremyBehrens @PatcoWatchers Yes a deer on the tracks in Philly is highly unusual. Not sure how it got there but we're addressing it ASAP. — PATCO (@RidePATCO) April 30, 2014
NBC10.com received several reports of a deer roaming through downtown Philadelphia earlier this morning -- including 9th and Market Streets and at 15th and Ellsworth Streets. It's unclear if this is the same deer.
PATCO resumed regular service about an hour later.
---
Contact Vince Lattanzio at 610.668.5532, vince.lattanzio@nbcuni.com or follow @VinceLattanzio on Twitter.