A person out for a jog found a missing art college student's body in a Philadelphia creek Friday morning.
The grisly discovery was made around 11 a.m. in the water of Cobbs Creek near Cobbs Creek Parkway and Spruce Street, Philadelphia police said.
Officers arrived to find Kierra Johnson dead. The 21-year-old's mother reported her missing the previous afternoon, Police Capt. John Ryan said. She was a student at Hussian School of Art in Center City.
A medical examiner over the weekend ruled Johnson died by strangulation, Ryan said.
It was unclear if Johnson was killed and then her body dumped in the water or if she was killed in the creek.
"At this point it doesn't appear that the body was there for very long," Ryan said.
Investigators hope to retrace Johnson's movements and find out if she was with anyone in the hours before her death. Homicide Unit officials are searching for a motive, police said.
She was a "young lady just living her life, doing the right things," Ryan said.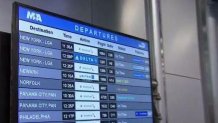 Johnson studied visual communications at Hussian where she was a second-year student.
Local
Breaking news and the stories that matter to your neighborhood.
"It is a small community and students are very upset this morning," said Sylvia McCray, the Dean of Academic Affairs.
McCray says Johnson was always available and helpful to other students. She was passionate about the arts, believed in land conservation and always smiled.
"She was funny," McCray said. "She had her own sense of style."
Police have not released a description of any suspects. If you have any information on Johnson's death, please call Philadelphia Police.