Brace yourself, we're set to get a blast of Arctic air later this week that will bring back memories of the Polar Vortex.

The bitterly cold conditions will start blowing in on Thursday and stay through Friday. Gusty winds will make for especially dangerous conditions Thursday night through Friday morning.

We have issued a First Alert for Dangerous Cold Thursday and Friday. During this time, plan to limit your time outdoors and make sure to layer up if you do have to brave the elements. Also, be sure pets are safe inside, as they too can suffer frostbite.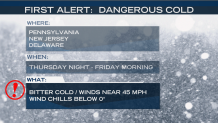 The Temperature Trend shows readings plummeting to levels well below the normal of 45 degrees at the end of the week. If you have some home winterizing that still needs to be done, now is the time to act, Tuesday and Wednesday will have temperatures will be near normal.

The coldest of the sub-freezing air will be felt Friday morning when the mercury will drop into the teens.

Gusty winds will only make matters worse. Daytime gusts Thursday will top 30 mph for parts of the area.

Although the wind won't be as strong for the Friday morning commute, it will still be blowing, resulting in feels-Like temperatures below zero for many neighborhoods. [[406283455, C, 480, 270]]

The cold air mass will be pushed out of here this weekend, but be careful what you wish for, that warm-up will come with a storm system that will likely bring snow, freezing rain and rain Saturday into Sunday.

All of this wintry weather comes our way even though it's still autumn. Winter doesn't start until the 21st! [[287977901, C]]