At least six people were arrested and more than two dozen others suffered minor injuries as fans celebrated Villanova's incredible 77 to 74 buzzer beater win over the North Carolina Tar Heels in the NCAA Men's Basketball National Championship Monday night.
Radnor Township Police say they arrested six people, cited one person and had two other arrests pending overnight. They also say 27 people were treated for minor injuries -- most at a triage center -- though no one was seriously hurt. Six to seven people did, however, require treatment at nearby Bryn Mawr Hospital -- some with fractures, said police. WATCH: Fans React to Villanova's Championship-Winning Buzzer Beater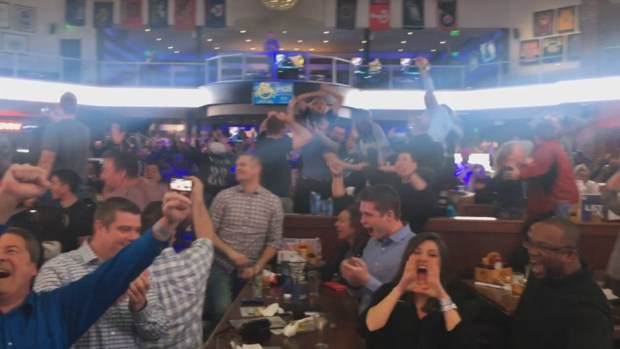 Students and fans on campus erupted into celebrations after Kris Jenkins swished a three-pointer at the buzzer to defeat North Carolina in what was instantly called one of the greatest NCAA title games of all time. Students rushed from Villanova's arena, The Pavilion, onto a nearby commercial strip, WATCH: Fans Celebrate Buzzer-Beater Win at Villanova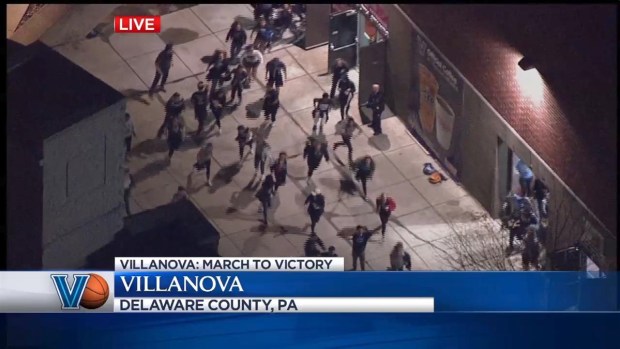 Police in riot gear stood by as celebrants shouted and chanted wildly. SkyForce10 was over the scene as students created small bonfires. There were also reports of some students scaling a light pole. Police said there was minor damage to a fire truck after someone threw a glass bottle at it. They also said there were small fires as trees, a sofa and toilet paper were burned. From Philly to Houston, Villanova's Big Win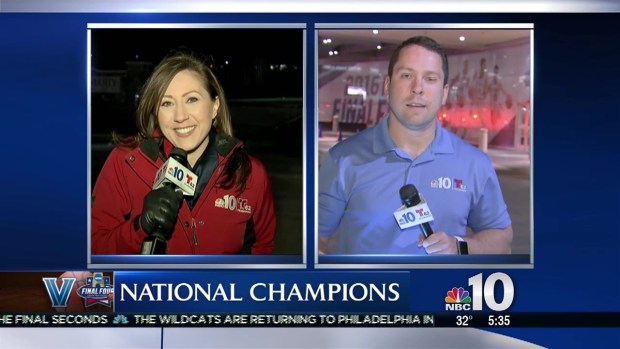 Due to the celebrations, officials closed some major roads including US Route 30 eastbound between I-476 North/Plymouth Meeting and County Line Road - Lower Merion, Interstate 476 (Blue Route ) exits for Saint David's and parts of Lancaster Avenue. Police reopened the roads around 2:30 a.m.
Before the outcome of the game, University leaders urged students and the community at large to act appropriately in their celebration.
"While I am delighted with your enthusiasm, I must request that everyone, particularly our students, celebrate responsibly," wrote president Fr. Peter Donohue in a letter addressed to faculty, students and staff Monday.
2016 NCAA Tournament: Best Moments
"How we celebrate sends a clear signal to the rest of the country about our University, so let's cheer on our team in a safe way that reflects favorably on Villanova."
Following the Wildcats' record Final Four win over Oklahoma Saturday night, students and others took to the streets -- and, while most were well behaved, some went overboard resulting in a handful of arrests, including two people arrested for assaulting a police horse, said Radnor Township Police. Donohue expected revelry with a Nova win but urged safety and restraint and offered students a place to watch the game.
ROAD CLOSURES in effect as fans celebrate Villanova's buzzer beater win: https://t.co/fMWCNqdxgshttps://t.co/fKyo4vS1cJ

— NBC10 Philadelphia (@NBCPhiladelphia) April 5, 2016
#NationalChampions#Villanovapic.twitter.com/VRfA9gn9fB

— John Clark CSN (@JClarkCSN) April 5, 2016
VILLANOVA @NBCPhiladelphiapic.twitter.com/Hfg9qmdUhQ

— Randy Gyllenhaal (@RandyGyllenhaal) April 5, 2016
CAN YOU BELIEVE IT!!!! #NovaNation#Villanova@NBCPhiladelphiapic.twitter.com/8PAtOv2maJ

— Drew Smith (@drewsmithtv) April 5, 2016
When your alma mater wins the #NationalChampionship... #NovaNation#Villanovapic.twitter.com/lyyeBThhuX

— Keith Jones (@KeithJones) April 5, 2016