NBC10's own Vai Sikahema was inducted into the Polynesian Football Hall of Fame over the weekend.
Sikahema was inducted alongside Troy Polamalu, Rockne Freitas, Charles Teetai Ane, Jr., and Al Lolotai during a ceremony in Oahu, Hawaii Saturday.
Sikahema played college football for Brigham Young University and was a member of their 1984 championship team.
He then became the first Tongan to play in the NFL, playing for the Arizona Cardinals, Green Bay Packers and Philadelphia Eagles.
Sikahema was a running back and kick returner for the Eagles and is ranked first among the NFL's all-time career leaders in number of punt returns and second in punt return yardage. He is also a two-time All-Pro and was twice named the NFL Alumni's Kick Returner of the Year. NBC10's Vai Sikahema Inducted into Polynesian Football Hall of Fame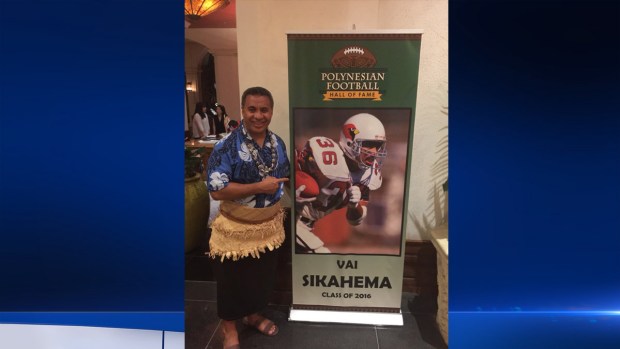 Sikahema joined NBC10 in 1994 and served as our Sports Director. He now co-anchors NBC10 News Today weekday mornings.
As a native of Nuku'Alofa, Tonga, English is Sikahema's second language. He lives in New Jersey with his wife, Keala. Together they serve in leadership positions in their church, are active in Boy Scouts of America and the United Way, and dedicate themselves to finding forever homes for at-risk children through adoption.
Sikahema says he is proud of the thousands of Polynesian players that have been on NFL rosters throughout the years, especially considering the remoteness of their ancestry.
"I'm extremely honored to be considered among the very best Polynesia has produced," Sikahema said in an email. "Our warrior culture and heritage served me well in football and it does so now in retirement and living a contented life."
Congratulations Vai!
Published at 3:54 PM EST on Jan 31, 2016 | Updated at 9:59 AM EST on Feb 2, 2016