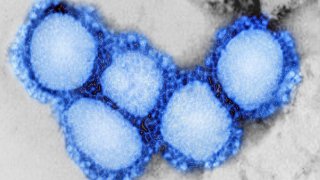 What to Know
Gov. Phil Muprhy announced Wednesday eight more cases of the new coronavirus in New Jersey.
A man from Bergen County who died Tuesday is the first person in the state to die after testing positive for the new coronavirus.
Murphy has declared a state of emergency in New Jersey.
Update: On Thursday, Gov. Phil Murphy called for all events of 250 people or more to be canceled.
Nearly two dozen people, including three in the Philadelphia suburbs, have tested positive for the new coronavirus, Gov. Phil Murphy said Wednesday.
It's not clear how two of the patients caught the virus, which means it may be spreading in the community.
In a midday interview with WCBS Newsradio 880, Murphy said eight more positive tests came in overnight. The people affected ranged from 17 to 66 years old.
Three are women and five are men, health officials said. The eight new cases are in Bergen, Middlesex and Monmouth counties.
At least two of the cases appear to be "community spread," which health officials say indicates person-to-person transmission without a direct link to an infected person or an area where the new coronavirus is prevalent.
Of the state's 23 cases reported so far, one man died, 20 people were hospitalized and two remain in self-isolation.
The news of more cases in New Jersey came as the World Health Organization declared COVID-19 a pandemic.
The Centers for Disease Control and Prevention is sending $14 million to New Jersey to fight the viral outbreak, Lt. Gov. Sheila Oliver said Wednesday.
One case was previously reported in Camden County and two in Burlington county.
Officials also announced that a man in Bergen County died of coronavirus in a Hackensack hospital Tuesday.
The man was 69 and had a history of health problems, including diabetes, high blood pressure and emphysema. He had not traveled out of the country, but he did go back and forth to New York, state Department of Health Commissioner Judith Persichilli said in a Tuesday news conference.
New York City has seen an explosion of coronavirus cases in recent days.
Murphy said Tuesday the state will waive fees for COVID-19 testing for more than 2 million residents on certain health plans.
The waivers apply to residents with health insurance through their jobs with the state and public schools, as well as to those using the state's social safety net programs.
Murphy also urged the state's other health carriers covering people who get insurance through their jobs to follow suit. The state's biggest insurer, Horizon Blue Cross Blue Shield, already said it would waive costs for medically necessary coronavirus tests.
Murphy declared a state of emergency for New Jersey on Monday.
The state of emergency and public health emergency was declared across all 21 counties in New Jersey, allowing state agencies and departments to use state resources to help affected communities respond to and recover from new coronavirus cases.
Officials said Monday they would begin to hold daily briefings on the virus as it affects more residents.
COVID-19 is spread mainly from person-to-person when droplets from an infected person who coughs or sneezes land on someone else's nose or mouth or enter their lungs, according to the CDC. It can also be spread when someone touches their own mouth, nose and possibly eyes after coming into contact with a surface that has the virus on it.
To prevent the spread of the virus, the CDC recommends frequently washing hands with soap and water for at least 20 seconds – or using an alcohol-based hand sanitizer with at least 60% alcohol – wiping down dirty surfaces and using the inside of the elbow to cover a cough or sneeze.
For most people, the new coronavirus causes only mild or moderate symptoms, such as fever and cough. For some, especially older adults and people with existing health problems, it can cause more severe illness, including pneumonia.