More chaos was caught on camera in Colwyn on Election Day after the borough's former manager showed up at the polls to make her presence known.
Moments before the precinct opened for voting, Paula Brown recorded herself as she argued with a poll official. She later posted video of the confrontation on Facebook.
The beginning of a long hostile day in Colwyn. At 620 am 40 minutes before the polls opened, Democrat candidate Patricia Williams had her husband appointed as the majority inspector, her daughter is the Judge of Election, Maurice Clarks daughter was a clerk. Maurice Clark was also there. Election officials are to be appointed curbside AFTER 7 am if there is a vacancy. This crew arrived at 615 am and began opening the polls without a curbside election. It's been hell since then....IT SHOULD BE NOTED THIS VIDEO WAS RECORDED BEFORE THE POLLS OPENED. ONCE THE POLLS ARE OPENED NO RECORDINGS CAN TAKE PLACE INSIDE THE POLLING PLACE. IT WAS RECORDED FOR MY SAFETY IN THE EVENT OF AN INCIDENT.

Posted by Paula Evans Brown on Tuesday, November 3, 2015
"Paula if you don't get out of here with that camera I will make sure they escort you out of here," the official screams.
"You don't know your role as judge," Brown says.
"No, you don't know your role," the woman screams back.
Brown also recorded her clash with Colwyn councilwoman Martha Van Auken.
"Stop recording," Van Auken screams. "You're not supposed to be here!"
"The polls are not open," Brown replies.
"You know what Paula Brown? You are a disgrace to politics," Van Auken says.
"Yes you are Martha," Brown replies.
Brown then accuses Van Auken of misspending funds.
"Martha where's the million dollars that you misspent?" Brown asks.
"There was no million dollars Paula," Van Auken says.
As Van Auken steps forward, Brown begins to shout.
"Don't come after me," Brown says. "You're backing up in my space!"
When NBC10 Investigative reporter Harry Hairston arrived in Colwyn hours later, he found Brown still arguing with several Colwyn officials as well as rival campaign volunteers crossing a designated campaign-free line. Despite the arguments, an official said there were no complaints or problems reported during voting. Two sheriff's deputies were stationed at the Colwyn Borough Hall polling precinct to keep the peace.
Brown lost her job in April after the Colwyn council eliminated the borough manager position. In response, Brown locked herself in the borough hall for a week and accused Colwyn officials of misappropriating tax payer funds.
Since Brown's firing, Colwyn has been without a borough manager position. Econsult Solutions Inc. was recently hired to get Colwyn back on track after the borough was classified as distressed under a Pennsylvania program for financially struggling municipalities. One of the company's recommendations was for the council to have a borough manager. Brown told NBC10 in October she plans to apply for the position again if it's available. Council Member Fred Lesher -- who is also a political rival of Brown -- told NBC10 he won't vote on the plan and insisted Colwyn could function without a Borough manager.
Ousted Colwyn Borough Manager Could be Reinstated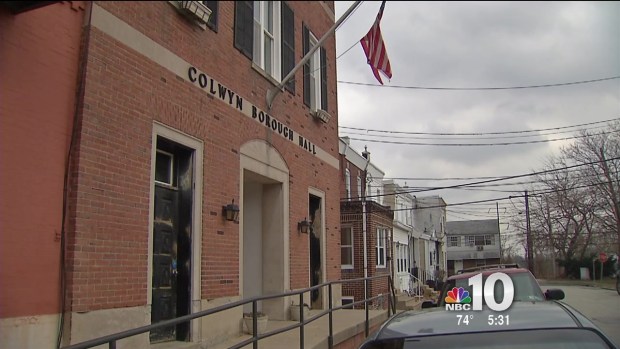 The Financial Recovery team will present its report on Colwyn during a Nov. 5 council meeting. The council has until the beginning of December to approve the proposal. If they vote it down they will have to come up with a plan of their own.