Deanna Durante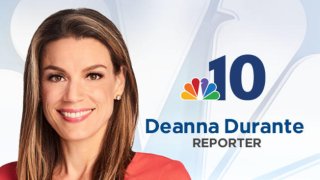 Deanna Durante is a reporter for NBC10 News. You can watch Deanna's live reporting during NBC10 news at 4 p.m., 5 p.m., and 6 p.m.newscasts.
Deanna has been sharing stories and information to viewers for more than ten years. She loves getting to know viewers, and being able to tell the stories of people in the area. "I am grateful to the people who share their stories with me," said Deanna. "The stories people share and the trust they put in me to tell them makes me proud."
Prior to joining the team at NBC10, Deanna was a reporter in Hastings, Nebraska; Little Rock, Arkansas; and Milwaukee, Wisconsin. She graduated from Syracuse University from the Newhouse School. Deanna has been nominated for Emmy Awards, has won several Associated Press Awards and is a recipient of a Milwaukee Press Club Award.
She enjoys giving back to the community. Every year she rides in the "Irish Pub Tour de Shore," where she rides a bike from Philadelphia to Atlantic City to raise money for local charities.
Connect with Deanna!
Twitter: @deannadurante
Facebook: @DeannaDurante