Red Paint, Note With Racial Slur Found at Local Politician's Headquarters: Cops
Police say the vandal left red paint over the campaign headquarters of Damon Roberts as well as a threatening note with the N-word.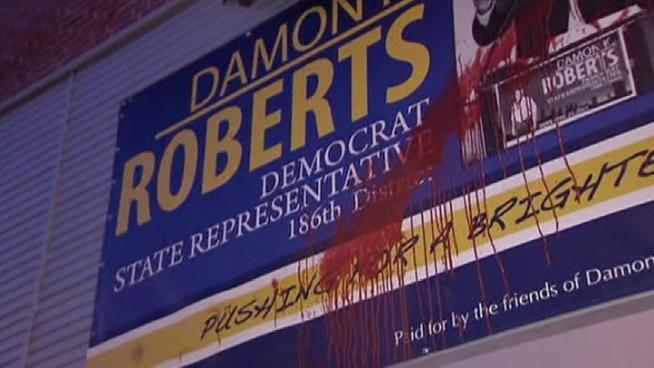 NBC10Philadelphia.com - Claudia Rivero
Damon Roberts, a Democrat running for PA State Assembly, said his campaign headquarters in South Philadelphia was vandalized. Vandals allegedly splattered red paint outside of the building, and left a threatening note. Roberts says this isn't the first time something like this has happened. NBC10's Claudia Rivero spoke with Roberts.
Police are investigating a vandalism incident against a local politician.
Investigators say a paralegal discovered red paint splattered outside the campaign headquarters of Damon Roberts at Broad and Dickinson in South Philadelphia Tuesday morning. The paralegal called Roberts who then contacted police.
Roberts is a Democrat running for State Representative in the 186th District. In addition to the paint, Roberts also said the vandal left a threatening message with a racial slur.
"There was also a note on the outside," said Roberts. "It said, 'We out for blood n****. This really has just truly gone too far."
Roberts says he's reported two other vandalism incidents to police but nothing as serious as Tuesday's.
"It's not just vandalism," said Roberts. "It's risen to a higher level of a threat."
The incident comes just a few weeks before the April 24 primary election for the vacant 186th District legislative seat.
"I hate getting publicity about stuff like this," said Roberts. "I'd much prefer to see publicity about the issues that really matter."
Police are currently reviewing surveillance video from businesses nearby the headquarters. No word yet on any suspects.