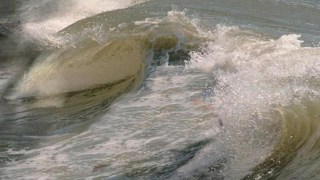 Beach patrol officials in Delaware, New Jersey and Maryland are warning late-summer beachgoers of dangerous rip currents.
While Hurricane Cristobal is expected to stay well off the East Coast, it has been generating life-threatening surf and rip current conditions.
The National Weather Service said there would be a high risk of dangerous rip currents along Delaware beaches and Jersey Shore Wednesday.
Rehoboth Beach Patrol officials posted a swimming ban on Sunday and most of Monday before conditions eased somewhat Tuesday. But Capt. Kent Buckson said he expects the risk of dangerous rip currents to increase Wednesday.
The National Weather Service warned of waves between 3 to 5 feet that could be "life threatening to anyone who enters the surf."
The Ocean City Beach Patrol in Maryland was advising swimmers not to venture out beyond knee-deep water after conducting about 120 rip current rescues Tuesday.