What to Know About the Winter Storm
The Jersey Shore and Delaware beaches could see more than a foot of snow; Philadelphia and the immediate suburbs will get less, but could see up to 11 inches.
A blizzard has been declared for the Jersey Shore and Delaware beaches. A winter storm warning is in effect for Philadelphia, the immediate suburbs, Delaware and New Jersey. New Jersey will be in a state of emergency throughout the storm.
A First Alert started at 7 p.m. Friday and will last through Saturday afternoon. There will be drifting snow, low visibility and dangerously cold conditions.
Snow moved out of the region late Saturday afternoon after a storm dumped up to 21 inches in parts of South Jersey.
Visibility started to improve throughout the greater Philadelphia region, but the Jersey Shore and Delaware beaches, where the National Weather Service declared a blizzard, weren't fully in the clear until later in the afternoon.
However, a winter storm warning will still be in effect through Saturday evening for Philadelphia, the immediate Pennsylvania suburbs, South Jersey and all of Delaware. The NBC10 First Alert Weather Team has issued a First Alert for the duration of the storm.
More than a foot of snow fell in several parts of the Jersey Shore and Delaware with the highest reported amount being 21 inches in Bayville, an unincorporated community in Berkeley Township, Ocean County.
The powerful storm was energized by a meteorological effect known as "bombogenesis," creating a bomb cyclone system that is categorized by intense bands of heavy snowfall.
Coastal cities along the Shore and Delaware coastline got hit the worst and were also dealing with the most accumulated snow. A blizzard warning was in effect through 4 p.m. for coastal Atlantic, Cape May and Ocean counties in New Jersey, as well as coastal Sussex County in Delaware.
There, winds gusting up to 50 p.m. were expected into later in the afternoon, which posed the threat of dangerous travel due to heavy snow blowing through the air.
A state of emergency for the entire state of New Jersey went into effect at 5 p.m. Friday. (Keep scrolling down for details).
Worst of the Snow Falls Saturday Morning
The worst of the snow began falling Saturday morning, with the Jersey Shore highly impacted and seeing inches of accumulating snow.
At the Shore, snow was falling at 2-3 inches per hour, with some reports of 10 inches having accumulated Saturday morning.
Snow began tapering off Saturday afternoon, though it lingered for a few more hours along the coast.
Cold, gusty winds will stick around throughout Saturday and will make it feel like the single digits. That's the coldest air of the season so far.
Expect clearing skies overnight into Sunday.
Blizzard Warning for the Jersey Shore and Delaware Beaches
The NWS declared a blizzard at the Jersey Shore and Delaware beaches.
For a blizzard to be declared, there must be at least three hours of snowfall with reduced visibility of 1/4 mile or less and winds in excess of 35 mph. Winds up to 50 mph were gusting Saturday.
In Sussex County, Delaware, and Atlantic, Cape May, Ocean and Burlington counties in New Jersey, people should hunker down with the blizzard warning in effect.
"Travel could be very difficult to impossible," the National Weather Service said. "Areas of blowing snow could significantly reduce visibility. Gusty winds could bring down tree branches."
NBC10 cameras showed near-whiteout conditions in some parts of the Jersey Shore in the morning, though conditions slowly improved.
How Much Snow to Expect
The National Weather Service issued a winter storm warning for snow Friday night through Saturday night for Philadelphia, the immediate suburbs and points east and south. Temperatures should be cold enough – not getting out of the 20s in most places – for only snow to fall.
Here is a look at estimated snow totals: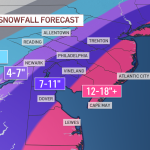 Even away from the Shore, the snowfall will still be significant in many places:
Far northern and western Pennsylvania suburbs, Berks County, Lehigh Valley: 2 to 4 inches
Chester County and upper Bucks and Montgomery counties: 4 to 7 inches
Philadelphia, Trenton, Wilmington, nearby suburbs, interior South Jersey and central Delaware: 7 to 11 inches
Jersey Shore, Delaware Shore points and easternmost New Jersey and southernmost Delaware: 12 to 18+ inches
Even though this snow should be fluffier than some of the other recent storms, it could still be difficult to clear due to the total amount and windy conditions.
When Is the Best Time to Get Prepared for the Storm?
It's time to be prepared. Make sure you have a good snow shovel ready and ice melt.
Philadelphia and most of its surrounding cities and towns issued snow emergencies starting Friday night. That means you couldn't park on snow emergency routes or you would be towed. The snow emergency was lifted in Philly at 5 p.m. Saturday.
State of Emergency for New Jersey
Visibility is expected to be poor during the height of Saturday's storm. The New Jersey Department of Transportation is advising folks to stay at home Saturday.
"Be prepared to hunker down," New Jersey Gov. Phil Murphy said.
"Please leave the roads empty for all the road crews to do their jobs," Murphy said. "If you see a road crew getting into position or working, please let them have the road ahead of you."
Should you lose power, you are urged to contact your utility company, Murphy said. Heating centers will be open and details are available by contacting 211.
Bitter Cold Saturday and Sunday
The best time to shovel will be later Saturday. But dress as warmly as you can -- Saturday afternoon will be bitterly cold, with biting winds.
Temps will quickly dip into the teens Sunday morning and stay below freezing throughout the day Sunday. However, the winds will be calmer.
Temperatures finally warm into the mid to upper 30s on Monday. Expect significant melting by the middle of next week as temperatures rise.
'Bomb Cyclone' Slams Northern East Coast
The blizzard slammed New York, particularly Long Island, and New England, where as much as 2 feet is possible. There, the storm intensified rapidly.
That's why you may hear it referred to as a "bomb cyclone," or undergoing "bombogenesis." That means the storm is rapidly intensifying, with rapidly dropping atmospheric pressure.
Hundreds of flights up and down the East Coast were canceled ahead of the storm.
Keep checking in with the First Alert Weather Team on NBC10 News and in our free app (download it here) for the latest on the snow. Should you lose power, you can continue to get NBC10 First Alert Weather Team information on our app.