What to Know
A solid line of severe storms caused tornado and thunderstorm warnings in Pennsylvania, New Jersey and Delaware Friday morning.
The storms uprooted trees and damaged some buildings.
Expect windy conditions to last as temps continue to drop Friday afternoon.
A quick-moving severe line of storms moved through the Philadelphia area Friday morning, leaving behind damage to trees and homes in some neighborhoods.
Trees fell onto vehicles and home in Delaware neighborhoods, including Sycamore Gardens and Claymont. In North Wilmington, a tree also fell onto live wires.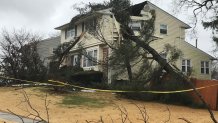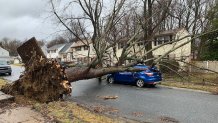 In at least one Wilmington, Delaware, school, students ducked in the hallway as the storm quickly roared through.
The National Weather Service sent a survey crew to New Castle County, Delaware, to determine what type of storm did damage there.
Friday afternoon, surveyors determined a tornado touched down in northeastern Cecil County, Maryland, which borders New Castle County. They classified the tornado as an EF-1, which twists at speeds of 86-110 mph.
The strong winds ripped a roof off a home in Delaware County.
And, a tree slammed onto a teacher's car parked outside Academy Park High School in Sharon Hill, Pennsylvania.
Tropical storm-level winds gusted at 73 mph in Cape May, New Jersey, and above 50 mph in many neighborhoods. The NBC10 First Alert Weather Team kept an eye on the winds within the string of storms to look for swirling winds and hail that could be signs of a twister.
While the storm thrashed some neighborhoods, sun shined in other areas. The storms at one point moved at 60 mph across the region.
"This kind of storm is only temporary," NBC10 First Alert Weather meteorologist Glenn "Hurricane" Schwartz said.
Parts of Chester and Delaware counties in Pennsylvania, Gloucester and Salem counties in New Jersey and New Castle County in Delaware were covered by a tornado warning that expired shortly after 10 a.m. Friday, the National Weather Service said.
A severe thunderstorm warning expired around 11:15 a.m. after being in effect for most of the area as the front moved through from west to east.
Get the latest weather alerts for your neighborhood.
The National Weather Service classifies a severe weather warning as a "take-action" event by the local forecasting station in Mount Holly: " Warnings indicate imminent danger to life and property. Take shelter in a substantial building. Get out of mobile homes that can blow over in high winds."
If you see storm damage near you and are able to safely take a photo and video, you can share it with us for use in our coverage.
The worst of the stormy weather may be gone but windy and chilly conditions are expected to last into Friday evening.
Download the NBC10 app for the latest First Alert Weather forecast.