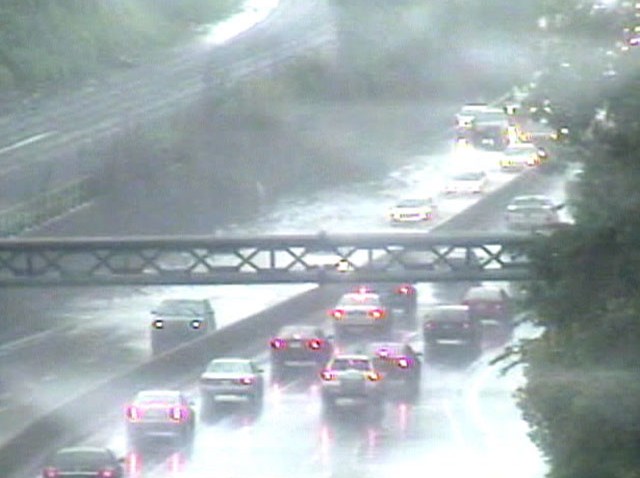 Morning thunderstorms created a mess for commuters as flooding shut down the Schuylkill and slowed traffic to a crawl on most of the major arteries.
The Eastbound lanes of the Schuylkill Expressway were closed at Belmont around 9:45 a.m. Tuesday morning due to serious flooding and on the Westbound side, only one lane was getting by at the Conshohocken curve.
Downed trees temporarily closed the southbound side of the Route 1 Media bypass in Delaware County from State Road to Route 252.
The Blue Route (476) was backed up on both sides all the way from I-95 to Broomall and the ramp to PA 23/I-76 (West Conshohocken) was closed.
Drivers were squeezing by on Kelly Drive near Strawberry Mansion because of a downed tree there.
SEPTA's Regional Rails were all delayed 15 minutes or more during the morning rush and downed wires caused power outages for 1,200 PECO customers in Upper Darby.
Heavy rain moving through the area was expected to be a threat for much of the day. By 9:30 a.m. the National Weather service in Mount Holly measured over two inches of rain in parts of Philadelphia.
Reports came in of wires down in Narberth, Montgomery County, Pa.
A large portion of the area was under a Flood Advisory and just west of Dover, Delaware, there was a tornado warning until 7:15 a.m.
---
Email us your weather pix and we'll add them to our gallery.
---
Fan, follow and download: Get the latest from NBCPhiladelphia.com anytime, anywhere. Follow us on Twitter, Facebook and NBC Philadelphia. Sign up for our breaking news newsletter. And, get breaking news delivered right to your mobile phone -- just text PHIBREAKING to 639710 to sign up. (Message and data rates may apply.)