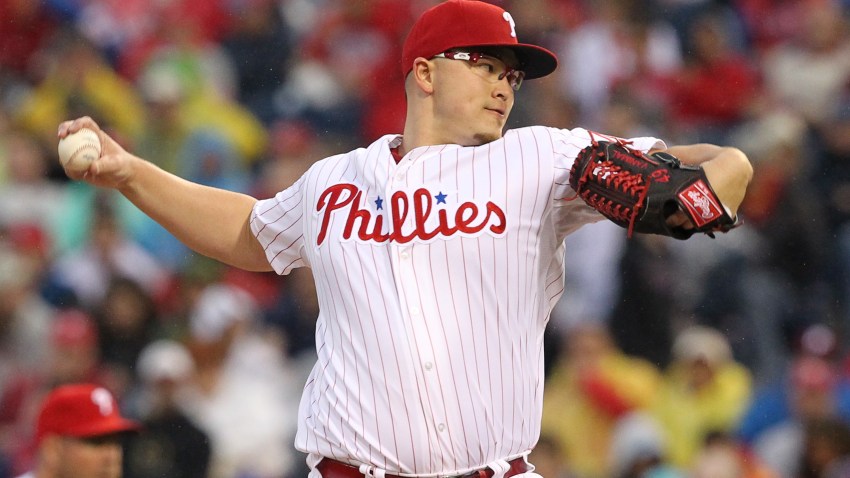 The Phillies got a little bit healthier on Monday night, when Vance Worley returned to the mound to make his first start in nearly a month.

The right-hander, who spent a few weeks on the disabled list thanks to some bone chips in his elbow, cruised through seven starts with a 3.07 ERA and 45 strikeouts in 44 innings, before coming up lame after his start against the San Diego Padres on May 11.

He was a sight for sore arms on Monday, when he took on the Los Angeles Dodgers in Citizens Bank Park, where he allowed three runs on four innings of work, five hits and three walks, while striking out four. Although you'd like to see your starter give you more than four innings of work, Worley was being limited to around 75 pitches in his first outing since May.

His outing started off on the wrong foot in the first, when he failed to find the strike zone for much of the inning. After striking out Dee Gordon to start the outing, he walked the next two batters, before giving up two straight base hits to put the Phillies in a 2-0 hole. All told, he threw 30 pitches in that inning, nearly half of his expected pitch count for the night.

He settled down after that, and would allow one more run over his next three innings, before leaving the game after the top of the fourth. Luckily for him, the Phillies were able to get on the board and tie things up, preventing him from being on the hook for the loss.

All in all, it was a solid outing from Worley, considering the circumstances. When you have a month between starts without any minor league outings in between, it's not at all surprising when you struggle a bit with your command.

Assuming everything stays on track for Worley, his next start will be on Saturday, June 9th, when the Phillies visit Baltimore to take on the Orioles.