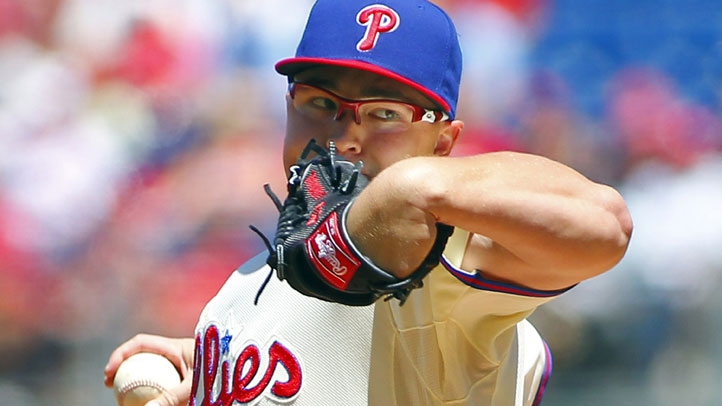 Following Vance Worley's latest outing on Tuesday night – a 60 pitch effort that saw him give up four earned runs in just over four innings of work – the Phillies made a decision that seemed to be a long time coming, when they announced that he would be hitting the disabled list and that he would be getting surgery on his right elbow, according to Jim Salisbury of CSNPhilly.com.

My first reaction when I heard this was "Really? What took you so long?" After all, Worley was diagnosed with having bone chips in his elbow earlier in the season, and as of late, it seemed to be getting worse. And with the team playing as poorly as they were, it took me by surprise that they sent him out there every five days to take his turn in the rotation in what has been a lost season.

At first, the affliction didn't seem to be too much of a problem, as he had an ERA under 3.00 at the end of June, but since then, his ERA ballooned to 5.80 in 11 starts. In that span, he tossed 59 innings, and opposing hitters have a .905 OPS against him, and his K/9 rate dropped from 8.02 to 6.25. To say it's gone poorly is a bit of an understatement.

Is it all related to his elbow? Salisbury went on to say that Worley denied that it affected him, but it's hard not to think otherwise. Considering that the elbow is an important component in the overall success of a pitcher, then it is not a stretch to think that it impacted his performance. Even if it didn't affect him physically, I can't imagine that he had the same amount of confidence in his pitches knowing that he had a problem with his elbow. And to boot, pitching with bone chips in your pitching arm probably doesn't feel that great, either.

The good news is that the Phillies aren't likely to miss him, as their season is more or less over, and that it allows them to call up youngster Tyler Cloyd, who they can only hope turns into Vance Worley 2.0.

With any luck, the surgery will be a rousing success, and Vance will be no worse for the wear in 2013.