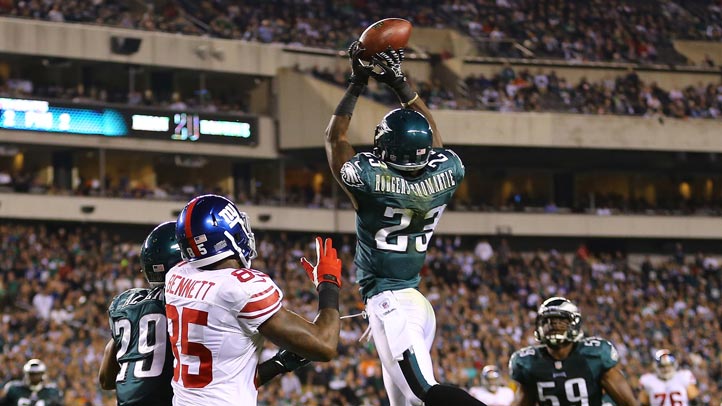 The Eagles' offseason to-do list is a lengthy one and it starts with finding a coach. In two weeks, Andy Reid will almost certainly have coached his last game in Philly and the process of finding his replacement will begin in earnest. And once those choices are made, the new staff and front office will have to decide which players stay on a team that has woefully underachieved the last two seasons.

Michael Vick, whom the club signed to a $100 million deal before the 2011 season, could follow Reid out the door despite multiple years left on his deal. The same holds for cornerback Nnamdi Asomugha. And the Eagles have yet to open contract talks with the soon-to-be unrestricted free agents, according to a report from CSNPhilly.com's Reuben Frank.
This isn't unprecedented but is unusual for an Eagles team that historically has looked to re-sign its top young players before they reach free agency and in many cases several years before their contracts expire.


One obvious reason a team would hesitate to re-sign players whose contracts are up is if it expects changes either at head coach, in the front office or both. If major changes are coming soon, it would be understandable if ownership or upper management waited until the new hires were in place before key personnel decisions were made, giving the potential new coach and-or general manager the opportunity to make those decisions once they've been hired.
So for now we wait. The list of unrestricted free agents includes cornerback Dominique Rodgers-Cromartie, offensive lineman King Dunlap, defensive tackle Derek Landri, long snapper Jon Dorenbos, defensive end Darryl Tapp, offensive lineman Jake Scott, linebacker Akeem Jordan and safety and special teamer Colt Anderson, and all but Dorenbos and Tapp have started at least a few games this season.

The biggest name on this list: Rodgers-Cromartie, who arrived in Philly as part of the trade that sent Kevin Kolb to Arizona. Last Friday, DRC sounded like he wanted to stay with the Eagles.

"If they pay me, they pay me," he said via Frank. "If they don't, I ain't playing for money. That's gonna come. I ain't worried about that."

And Monday, Rodgers-Cromartie spoke about the Eagles' future, one that presumably included him.

"You can say the future is looking good," he said. "Guys are really starting to come into their own and just playing [hard] and getting that game experience which is really good. [They] just [have to] take it into next season and go from there."

The organization has a lot to sort out in the coming weeks and months. Whether Nick Foles is a legitimate NFL quarterback is at the top of the list, obviously, but this season has proven that without a defense it doesn't much matter who's under center. DRC won't magically fix everything in the secondary but he has been the unit's most consistent player. Whether it's enough to keep him in Philly remains to be seen.