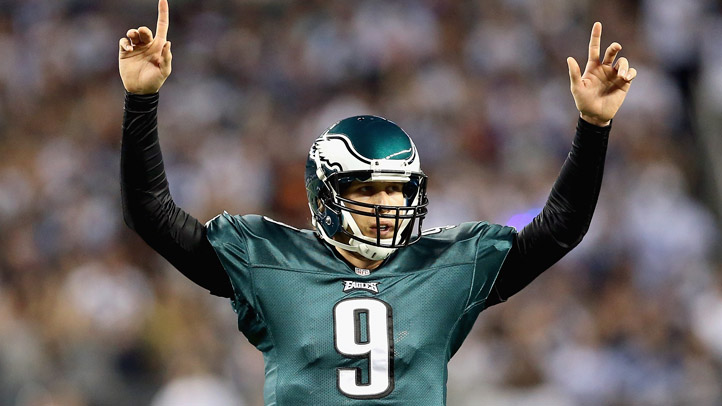 Game time: Thursday, Dec. 13, 8:20 p.m. ET, Lincoln Financial Field
TV: NFL Network
Weather: high-30s, partly cloudy
Records: Bengals (7-6) at Eagles (4-9)

1. Can Nick Foles continue to improve?
Foles had a slow start against the Bucs last week but all anyone remembers is that final drive, punctuated by a last-second touchdown pass to Jeremy Maclin that snapped an eight-game losing streak and had Andy Reid as excited as we've ever seen him. But as Birds' Nest blogger Brian Solomon wrote Wednesday, Foles may not be this team's savior. At the very least, we need to see more from him over the final three weeks of the season, which seems fair given that he'll make only his fifth start Thursday night. Still, there's plenty to be excited about; Foles has a strong arm, seems comfortable in the offense (he suggested the play call that got the Eagles the win last week), and has the confidence of his teammates. With Michael Vick almost certainly gone after the season (or if he returns, it'll be at a reduced rate and in a different role), it makes since to roll with Foles for the rest of the month.

2. Can Bryce Brown bounce back from a tough game?
Absolutely. He rushed for 347 yards (8 yards per carry) in Weeks 12 and 13 before running into the brick wall that was the Bucs' defense last week (12 carries, 6 yards). But Tampa Bay had the 2nd-best rush defense in the league, according to Football Outsiders. The Bengals? Not so much. They're 26th against the rush, which means that even though Cincy leads the NFL in sacks, Brown's presence in the backfield should help keep the defense guessing. And a guessing defense is a less aggressive defense, and that benefits the Eagles offense -- both the pass and run games.

3. How will the o-line slow down DT Geno Atkins?
See above. A healthy mix of run and pass would be a good start. CSNPhilly.com's Ray Didinger adds:

"The Bengals are big and physical up front. While other teams bring pressure off the edge, the Bengals bring it up the middle and that is the most disruptive kind of pressure because it is the hardest to escape. It also takes away the inside passing lanes and those hot routes are a quarterback's best friend against a heavy rush. If the pressure is right in his face, he can't make that quick throw."

Put another way: Jason Avant and Jeremy Maclin will have to have another big game.

4. How will the Eagles' D slow down A.J. Green?
The easiest way: the Eagles' offense needs to sustain long drives, and that can be accomplished by an efficient ground game. Short of that, Philly's secondary will need to be physical with Green at the line of scrimmage. Given that Nnamdi Asomugha has become a glorified cardboard cutout at this point, that makes the task all the more difficult for Dominique Rodgers-Cromartie. The Eagles' best hopes of slowing Green may line in the front seven's ability to generate a pass rush.

5. Will Andy Reid get fired this week?
We first asked this question last week because, well, it wasn't outside the realm of possibility given that the Eagles hadn't won in two months. And then they did just that. Does anything change this time around? We don't think so. Against the Bucs, the Eagles showed signs of life for the first since October, and with only three weeks left, it doesn't make since to send Reid packing now.