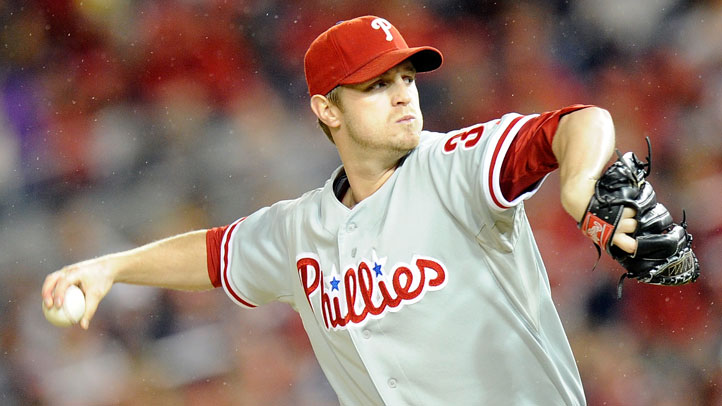 Here at Philthy Stuff we'll be taking a look at the 2013 Phillies and what we can expect from each and every player in the upcoming season as we head towards Spring Training. Next up, Kyle Kendrick.

A couple years ago, if you were told that one day, Kyle Kendrick would one day be a crucial part of the Phillies rotation, you'd have likely thought you were the victim of some sort of prank, not unlike the time Kendrick was tricked into thinking he was traded to Japan for a guy who was best known for eating dozens of hot dogs in a single sitting.
But here we are, in 2013, and the right-handed starting pitcher not only figures to be a starting pitcher in 2013, but one that will be counted upon quite heavily, thanks to a rotation that has too many question marks for comfort.

Kendrick's journey, which began in 2007 when he was promoted from Double A to help with an ailing rotation, has taken him from starter, to reliever, to spot-starter, to minor league starter, to big league reliever, to starter, to reliever, and back to a starter again.

His latest role as a starter occurred because, like in 2007, the Phillies were banged up and in need of someone who can provide them with semi-decent innings. Thanks to injuries to Cliff Lee and Roy Halladay last season, Kendrick rarely found himself without a job every five days. Although the first half of his season wasn't anything special (4.45 ERA, .791 OPS against in 89 IP), it was his second half (3.20 ERA, 651 OPS against in 70 IP) that really convinced people that, hey, maybe this kid could be a reliable starting pitcher.

And that is exactly what has happened. Thanks to Vance Worley being traded to Minnesota and Roy Halladay being somewhat of a question mark, Kyle Kendrick is going to be in the rotation come Opening Day. How long he remains in the rotation depends entirely on which Kendrick shows up. If he can induce ground balls and get enough strikeouts, then he figures to hold onto his spot in the rotation.

If Bill James' projections are to be believed, then the 2013 version of Kyle Kendrick will be closer to the first half version of himself, as the stat guru projects him to have a 4.25 ERA in 180 innings, with 4.75 K/9. It's not the worst, but it could be better.

Ultimately, Kendrick's success is going to depend on his ability to miss bats, and whether or not he can keep the left-handed hitters from hurting him too much. Was the last half of last season merely an anomaly, or is the new and improved Kendrick here to stay?