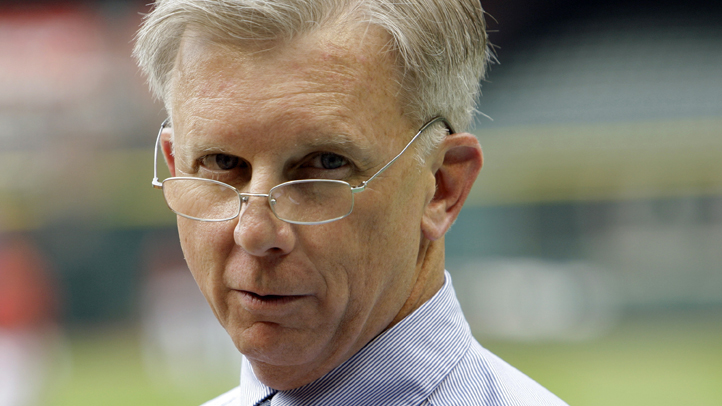 What's old is new again, as the saying goes, as former Philadelphia Phillies General Manager Ed Wade will be returning to the club.
The Phils made the move official Tuesday:
In his new role with the Phillies, Wade will assist in salary arbitration consultation, while also scouting at both the major and minor league levels.
While the thought of Wade returning to the Phillies in some capacity might cause some consternation among fans -- after all, Wade was at the helm during some of the most lackluster years in Phillies history -- those feelings are, if nothing else, misguided.
"Ed had a very positive impact on the success we had in 2008 and his experience and knowledge will be a solid addition to what I feel is as good a baseball operations staff as there is in the game," said general manager Ruben Amaro, Jr.
Despite Wade's reputation as a General Manager who was shoot first, ask questions later, he was actually one of the biggest reasons that the Phillies won it all in 2008, thanks to the core of players -- namely Ryan Howard, Chase Utley, Jimmy Rollins, Pat Burrell and Ryan Madson -- that he was critical in drafting and bringing up through the system. It's another thing that he then tried to trade much of that talent when the team was years away from competing but the moral of the story is that he has an eye for talent.
That was further evidenced by the fact that during his tenure with the Houston Astros, he was frequently on the receiving end of some very good talent from the Phillies. And even though the Astros didn't really improve in the short term from that talent injection, the end result was that their farm system got considerably deeper thanks to Amaro.
Wade's return, which will be the first time he's been on the payroll since he was fired after the 2005 season (unless you subscribe to the theory that Ed Wade was a sleeper agent with Houston), will boost the reputation of the team's already sound scouting team. A quick look at the kind of talent that the Phillies have drafted (and traded away for Joe Blanton, Roy Halladay, Cliff Lee, Roy Oswalt and Hunter Pence) gives further evidence of this.
Will his impact be felt or have any sort of immediacy? Likely not, because the guys who are actually pulling the strings -- like Amaro -- aren't the guys who are out on the road scouting the players, but I look forward to the first Wade-scouted player that makes the big club.