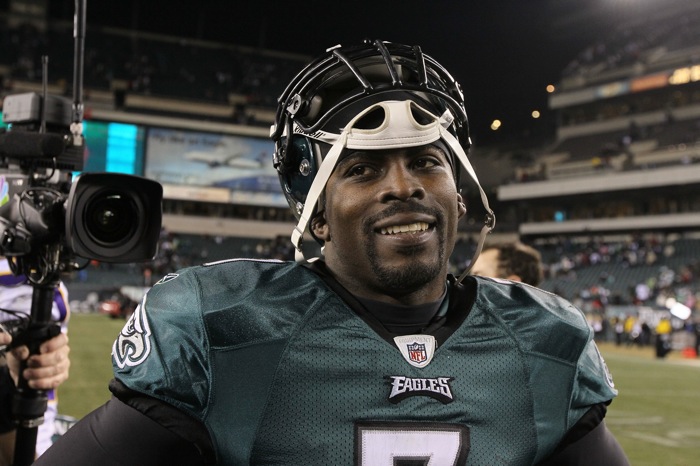 It doesn't look like Eagles quarterback Michael Vick will be flying the coop anytime soon.
The Eagles have signed their 31-year-old QB to a six-year, $100-million deal, ESPN.com first reported.
The deal was confirmed by ProFootballTalk.com and later by PhiladelphiaEagles.com.
It's believed that the deal has about $40 million guaranteed.
The deal makes Vick one of the top-paid players in all of the NFL -- on a level with three-time Super Bowl champ Tom Brady.
Now that Vick is signed what does it mean for his No. 1 weapon DeSean Jackson?
"...Vick gets $100 million deal, his cap number goes from $16 mill to less than that. Desean's deal will be much tougher," tweeted NBC Philadelphia's John Clark.
Vick was set to make about $16 million this season as a franchise player. His cap number goes down to about $14.4 million for this season, according to the Inquirer.
The Eagles had until mid-September to ink Vick long term.
Head coach Andy Reid is happy to have Vick in the nest for foreseeable future:
"I'm very happy we were able to reach an agreement with Michael on this long-term contract. It's a product of all the hard work Michael has done to better himself over the last couple of years, both on and off the field. I'm very proud that he has been able to achieve success again in this league, but he'll be the first one to tell you that there is a lot of work yet to be done by him and this team as a whole. And there's no doubt in my mind that he will continue on that path. I give a lot of credit to Joe Banner and Joel Segal for getting this deal done."
Vick was once the highest paid player in football after signing a 10-year, $130-million deal with the Falcons seven years ago. But after he was found guilty of dogfighting Vick lost that deal and millions in endorsements.