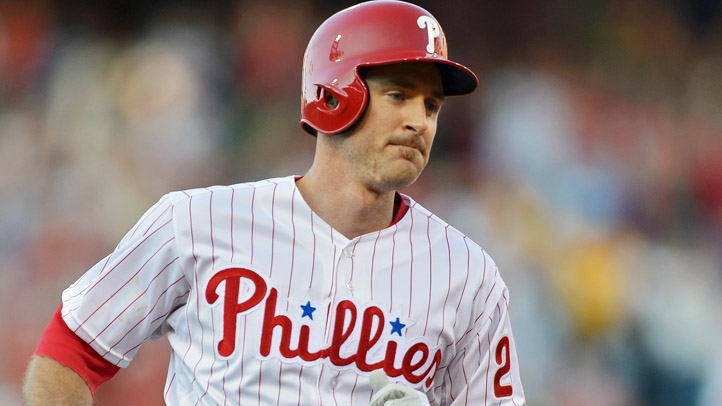 The 2013 season got a little bit brighter on Wednesday, when news broke that Chase Utley and the Phillies agreed to a contract extension worth at least two years and $27 million, according to CSN's Jim Salisbury. With rumors abounding around Utley possibly being on the trade block, plus health concerns looming during the final year of his contract, an extension seemed a longshot a few months ago.

Utley proceeded to celebrate his new contract in the bottom of the seventh inning on Wednesday by throwing himself at Cubs catcher Dioner Navarro, in what turned out to be a slide that turned into a human cannonball mid flight that resulted in an out at the plate. Most folks would have celebrated a two-year contract worth nearly $30 million with a steak and a good bottle of scotch, but who am I to judge?

At any rate, this extension evidently been brewing since July, when Utley appeared to be – for the first time since 2010 – completely devoid of any of the knee injury issues that kept him off the field and, at times, ineffective, during the last two seasons. On top of that, he has been wildly productive, posting an .842 OPS and 15 home runs through Thursday. Not bad for a 34-year-old second baseman with bad knees and a reputation for playing so hard that it has worn his body down to the point where his career might be cut tragically short. While that is a possibility given the aforementioned knee problems, they chose to reward Utley with at least two more years in red pinstripes.

It's funny, because two years ago you would have been a crazy person for suggesting that Utley was deserving of a two-year deal, given that it was the first year he was dealing with what turn out to be chronically injured knees. And with the wound of the Ryan Howard extension still fresh in our mind's, giving an injury-laden player in his mid-30s that kind of money for maybe 100 games a season is a fool's errand.

But here we are, and Utley is set to continue his baseball career with the team that drafted him out of UCLA in the first round of the 2000 draft. The team that traded one second baseman (and a darn good one named Placido Polanco) to ensure Utley had enough playing time. A team that knew what they had in 2007 when they offered him a seven-year extension at age 28 worth $85 million. A contract which, when you look back on it, is still an absolute coup for then-GM Pat Gillick.

From a pure baseball strategy standpoint, it was a good deal. It's no more money than what he is making now, and any risk in the dollars is mitigated by the length. He gets injured halfway through? No worries, it's only a two year commitment. He struggles? No worries, it's only a two year commitment. Thanks to the vesting options after the second year, Utley's time in Philadelphia correlates with his health, which is about as smart a move as Amaro and company could make.

From a fan perspective, it's an even better deal. Arguably the team's best offensive weapon since this core came together in the mid-2000s, Utley is still quite possibly criminally underrated. While Jimmy Rollins was the de facto leader and mouthpiece that began the run of playoff appearances, and while Ryan Howard blasted tape measure shots with aplomb, and while Cole Hamels ushered in a new era of pitching dominance in Philly, Utley was the silent motor that made everything go. He could hit for average, he could hit for power, he could get on base, and he was among the best defenders in the game. Quietly – perhaps almost too quietly – Utley went about his business of being among the best in the game.

When news of the extension broke on Wednesday, one of the first thoughts I had was that the engraving on his plaque in Cooperstown would speak to the fact that he spent his entire career with one organization. It's rare for a player to spend his entire career with one team, and even rarer still when said player gets achieves baseball immortality with a statue in Cooperstown. While the Hall of Fame is by no means a lock for Chase, the fact remains that he is quite possibly one of the ten greatest ever to play the position. Not that it means anything in the grand scheme of things, but there is just something about a player sticking with a team for his entire career that just makes it a little bit sweeter in the end.

This is all to suggest that he'll continue to hit like the dickens, and that he can stay healthy, and that he won't wind up elsewhere when his contract is over. There are still a lot of ifs, but that shouldn't prevent any Phillies fans from taking joy in the fact that Utley is going to be around for a little while longer.