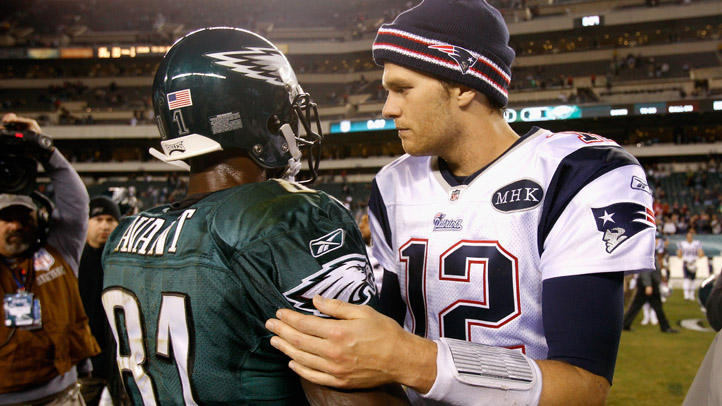 Welcome to The Takeaway, where we take away the three key points from the Eagles' previous game, in this case a 38-20 loss to the Patriots.

1. The Vince Young fantasy was nice while it lasted. Between the final drive against the Giants and those two long bombs to Riley Cooper and DeSean Jackson to open the game yesterday, it was easy to envision Vince Young suddenly morphing into SIDEARM THROWGOD and leading the Eagles to seven straight wins to close out the season. I even had a whole imaginary QB controversy between Young and Mike Vick planned out in my head, a scenario that ended with BOTH men getting injured. Anyway, none of that will come to pass. Young is still terribly erratic (though his receivers didn't help matters), and just as prone to turning the ball over as Vick has been this season. The only upside to this whole fiasco is that Young has proven himself to be a halfway decent backup. WOOHOO YAY LET'S HAVE A PARTY.

2. Time to start planning for 2012. The season was over after that horrible loss to Arizona, but now it's SUPER over, like someone dragged the corpse out back and beat it with a tire iron just for sport. And so we have to turn our attention to the 2012 offseason, and what the Eagles will need to do to get back on track. And as much as I support your FIRE ANDY REID chants, I bet Jeffrey Lurie keeps him and forces him to fire Juan Castillo instead. Despite the injuries to Vick and DeSean's ongoing soap opera and all the turnovers, the ultimate story of this 2011 Eagles season will be the failure of Castillo to field anything resembling a consistent defense. Why was no one covering Welker on that first touchdown catch? How have these things not been worked out over the course of 10 WEEKS? That will be the stuff that haunts Eagles fans well into the offseason. Castillo needs to go, and he needs to be replaced by someone who wasn't an o-line coach. The team also desperately needs help at safety and linebacker, and it needs to decide what to do about DeSean, who was abysmal yesterday. Do you let your most talented receiver walk, or do you pay him and pray he stops being an idiot? I suspect Howie Roseman has already settled on the former option. I will be very interesting to see if the Eagles opt for continuity this spring instead of making that painful, dramatic changes they should make.

3. Guess who only ran the ball ten times yesterday? And when the Eagles desperately needed to keep the Patriots pass offense off the field? FIRE ANDY REID.