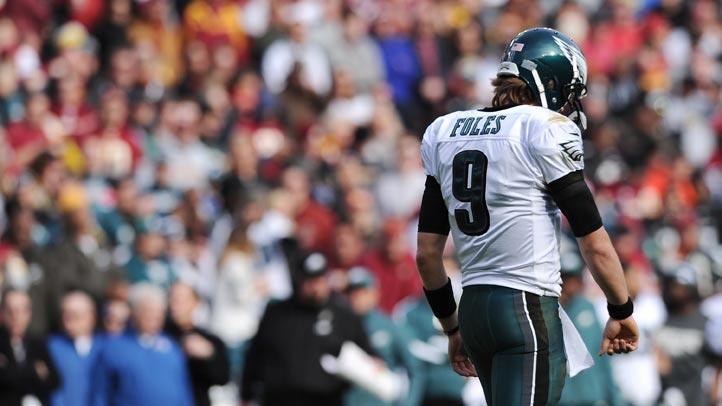 Owner Jeffrey Lurie warned in August that 8-8 was unacceptable. Given that the Eagles are sitting at 3-7 we're guessing Lurie would happily take another .500 season. At this point in the proceedings, those are some pretty long odds. The first game of the rest of the Eagles' season starts Monday night against the just-as-hapless Panthers.
ESPN: For an indication of just how dire things are consider this: 5 of 14 experts are taking the 2-8 Panthers over the Eagles … at the Linc. This is what it's like to look up at rock bottom. Things are so bad, in fact, that Ron Jaworski likes Carolina. This season really can't end soon enough.
CBSSports.com: Fifty-six percent of CBSSports.com's experts like the Panthers. It would be one thing if this was 2003 and Jake Delhomme was throwing passes to Muhsin Muhammad. But it's 2012 and Carolina has TWO wins.
Good news is hard to come by but there's this: CBSSports.com's Pete Prisco is one of the 44-percenters. "I bet you can't wait for this one. When the schedule came out, it looked like this might feature two playoff teams with two dynamic quarterbacks. It has neither. This will likely be Nick Foles' first home start for the Eagles. And Cam Newton hasn't been the same player. The Eagles get one before Andy Reid gets canned, 23-17."
Merry Christmas, Andy.
Yahoo Sports: And the embarrassment continues: three of four experts like the Panthers. Lets us repeat: Carolina has two wins and the game is in Philly.
What Vegas is saying: Man, not even the bookmakers know what to make of this matchup. As it stands, the game if "off." There are lines out there that have the Panthers favored by 2.5. Knowing that here are the vitals, via OddShark.com:
Eagles lost 6 in a row, past 3 by 13 points or more
Panthers 1-4 ATS past 5 vs Eagles
Panthers 6-2 ATS past 8 road games
Eagles 1-5 ATS as favorite (will open later as chalk)
Me (5-3): We took the Eagles last week and they were blown off the field against the Redskins. There's no turning back now. We're taking them again. Partly because we're stubborn but mostly because THEY'RE PLAYING THE PANTHERS. Eagles roll, 10-9.