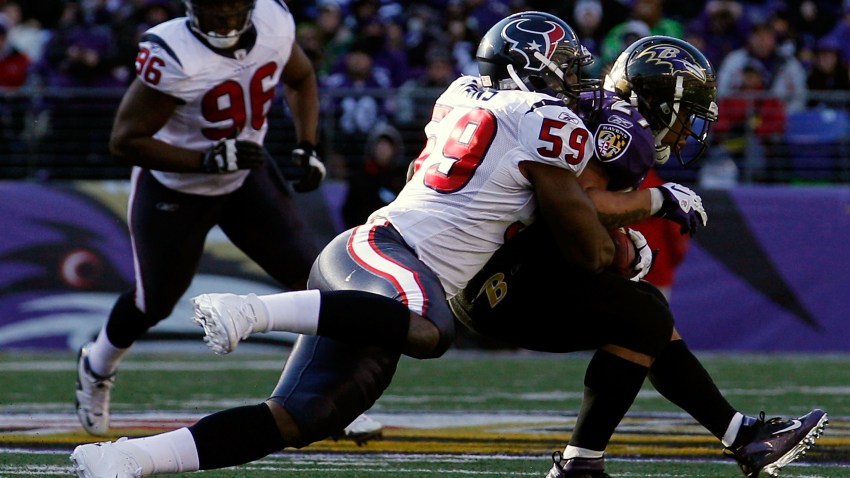 It's a year too late, but let's not spoil the fun. The Eagles finally have a real linebacker. It's a miracle.
The trade for Texans middle linebacker DeMeco Ryans is everything the Eagles needed and more. In fact, it's a master stroke by the front office. While the best free agent linebackers have zero Pro Bowls between them, Howie Roseman and company went out and acquired a two-time Pro Bowler for basically the same money and the equivalent of a late third-round pick.
There are obvious caveats to the deal, starting with why the Texans would be willing to trade the 27-year-old Ryans. The decision to move him probably amounts to three factors. First, Ryans was going to cost upwards of $6 million a year for the foreseeable future, and the Texans are not in great salary cap shape. Second, the linebacker's production fell in 2011 playing in Houston's new 3-4 scheme. Instead of playing virtually every defensive snap, he only was on the field 58 percent of the time last year (according to PFF).
With the Eagles' salary cap wizardry and 4-3 scheme, neither of those should be a problem here. The only remaining question is whether he's lost a step following Achilles surgery in 2010. Ryans played all 16 games last season, but many observers called it a down year for him (64 tackles, zero sacks). Hopefully the injury won't be a factor going forward.
Even with that potential drawback, getting Ryans is a big win for the Eagles. He instantly becomes the most talented linebacker in this city, probably since Jeremiah Trotter first left in 2002. And he doesn't have to return to Pro Bowl strength in order to make a huge impact in the middle of the Eagles defense.
Moreover, Ryans was a team captain and by all accounts a tremendous leader. The Eagles have had problems in that area too, but it seems likely that the team has found it's vocal defensive signal-caller for the foreseeable future.