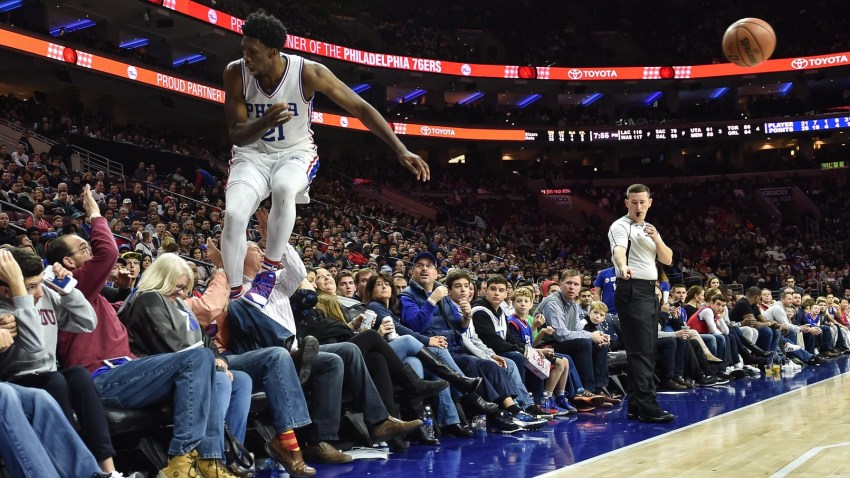 Joel Embiid's performance on Sunday in the Sixers 108-107 win over the Brooklyn Nets was the kind of game that makes you forget about all of the other issues and simply enjoy watching a beast do work.
He really did it all. Post moves, pull ups, threes, some work on the boards. And of course diving a couple of rows deep into the stands in an attempt to keep a play alive.
Philadelphia 76ers
Complete coverage of the Philadelphia 76ers and their rivals in the NBA from NBC Sports Philadelphia.
It has to be a terrifying sight to see the 7-foot-2 Embiid flying in your direction. But Embiid would have it no other way. In fact, he said after the game that a certain Hall of Famer helped him develop the mindset of giving your all every single time out on the court.
"I think I stepped on his shoulder. I'm sorry for that person," Embiid said of the person he landed on.
"I'm going to give my all every time I'm out on the court. That's what I think I've been doing. Just play hard. One thing [Allen Iverson] kind of helped me with that, 'play every game like it's your last game.' And I think that's what I think I've been doing."
Brett Brown certainly sees the effort.
"I'm proud of him. I love it. I love it. After you love it, you're looking to make sure he's getting up healthy."
.@JoelEmbiid talks about diving into the stands, "playing every game like it's your last" like @alleniverson told him. pic.twitter.com/bvN0Mo1ajW— Philadelphia 76ers (@Sixers) December 19, 2016
Copyright CSNPhily