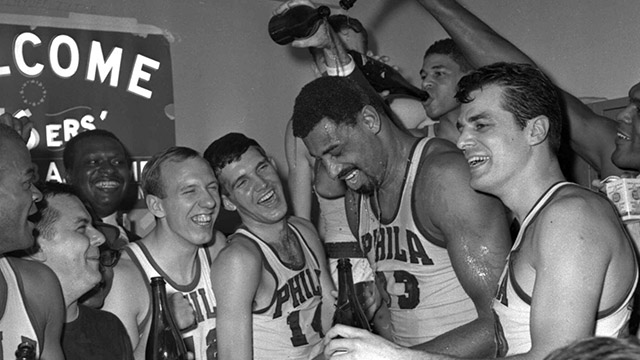 As part of their "Salute Saturday" series, the Sixers honored the 1966-67 championship team at halftime of their 107-106 loss the Celtics on Saturday.
Fifty years after winning the title, the success of the squad (which went 68-13 in the regular season) still resonates with those representing the Sixers today. After all, they are the group Wilt Chamberlain described as "the best team ever."
Philadelphia 76ers
Complete coverage of the Philadelphia 76ers and their rivals in the NBA from NBC Sports Philadelphia.
"It's just part of the history of this city and the organization," said Brett Brown, who has established a relationship with Billy Cunningham through practice visits and emails. "There was a toughness with that team that he personified and the city sort of reflects. It's stuff you hear me talk about all the time how you want our team to reflect the spirit of the city. That team did it."
Prior to their tribute ceremony, members of the team reflected on their run in which they beat the San Francisco Warriors for the title.
On Wilt Chamberlain
"Wilt was such a dominant figure, not only as a basketball player, but he's almost bigger than the game," Matt Goukas said. "He played so well, he was such a good team player – he started really passing the ball right around that time --and that enabled great scorers like Hal (Greer) and Billy and Chet Walker to do their thing, and Wilt was very happy to give them that leeway.".
On fond memories
"It was a team that we played well together and we lived as a family and that's what made it so good for us," Greer said. "A lot of fun, a lot of fun. We missed the next year, but 68-13 is not bad at all."
"It's hard to forget a situation like that where we had such a terrific team and the season went so quickly, we won so many games and then of course winning a championship," Goukas said. "As a first year player I said, 'This is the way it's supposed to be, I guess.' But of course I never won another championship as a player, but we had such a terrific group of guys and true professionals that for me as a rookie, Billy Melchionni as a rookie, we really benefited from guys like Hal Greer, Wally Jones and Harry Costello, they really showed us the way."
On team chemistry
"It was very difficult times when you look at the sixties from a social aspect," Cunningham said. "Martin Luther King was killed the following year we won the championship. Race relationships weren't the best. And this time, which was just about half black-half white, I'm not even sure, it was never an issue. That's the beauty I think of being on a team you know getting to know people, you judge them as an individual and nothing more than that."
"I think it was our coach Alex Hannum, for one (that kept the team together)," Greer said. "And of course the big guy. He held us together most of the time, he could rebound, play defense, do it all."
Copyright CSNPhily