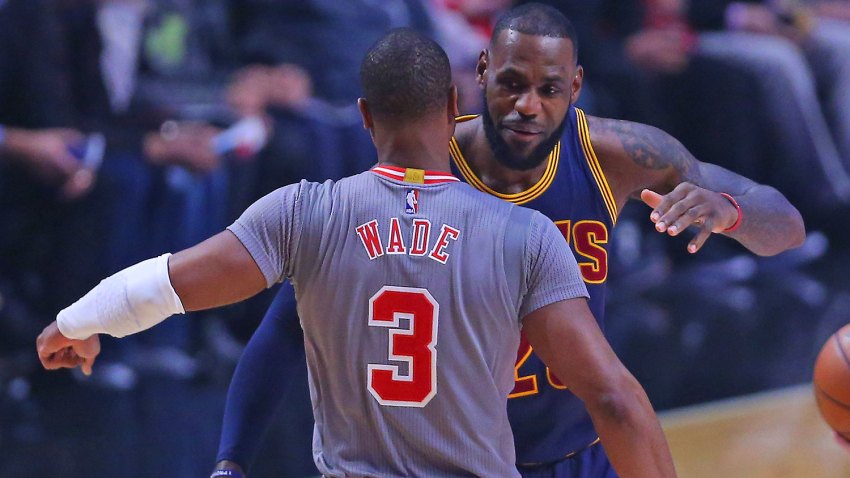 The wake-up calls for Dwyane Wade were coming at 5:45 a.m. for much of the summer. An hour or so later, he and LeBron James would be in the gym together working on their games.
And the chemistry was as good as ever.
"He drives me to want to be better," Wade said.
Philadelphia 76ers
Complete coverage of the Philadelphia 76ers and their rivals in the NBA from NBC Sports Philadelphia.
They'll be grinding together on a daily basis now.
Wade signed a one-year, $2.3 million deal with the Cleveland Cavaliers on Wednesday to reunite with James, with whom he went to four NBA Finals and won two championships in Miami. Wade's deal was finalized quickly after he cleared waivers, which he had to do after getting a buyout from the Chicago Bulls over the weekend.
"I'm all about the challenge," Wade told The Associated Press. "If I didn't want the challenge, I would have stayed in Chicago. But I wanted the challenge of being back on that big stage and playing in those moments and seeing what I've got. So I'm not going to talk about what I've got. I want to go out there and show, when the lights are the brightest and the games are the biggest, that's when I'm alive. And I need that."
He took a hard look at going back to Miami, listened to sales pitches from Paul George and Carmelo Anthony in Oklahoma City, even considered San Antonio and got a call from Golden State.
But in the end, he wanted to play again with James -- someone Wade calls his brother (see full story).
Grizzlies: Forward Green signs multiyear contract
MEMPHIS, Tenn. -- The Memphis Grizzlies have signed forward JaMychal Green to a multiyear contract.
Terms of the deal haven't been announced.
Green, 27, is coming off the most productive season of his career. The 6-foot-9 forward averaged 8.9 points, 7.1 rebounds, 1.1 assists and 27.3 minutes in 77 games with the Grizzlies. He made 75 starts.
He has played 179 games in a three-year NBA career with the San Antonio Spurs and Grizzlies. Green has career averages of 7.4 points and 5.4 rebounds.
Green went undrafted after a four-year career at Alabama. He played professionally in the NBA G League and in France before making his NBA debut with San Antonio in January 2015.
Wizards: Kara Lawson to be primary TV analyst this season
WASHINGTON -- Former WNBA and college basketball star Kara Lawson will be the primary television analyst for the Washington Wizards this season.
Comcast SportsNet Mid-Atlantic announced the hiring of Lawson on Wednesday. A longtime ESPN game and studio analyst, Lawson will continue to contribute on that network along with working Wizards games.
Lawson in 2007 became the first female analyst for a nationally televised NBA game. The 36-year-old is a Washington-area native who went to the Final Four three times at the University of Tennessee and won an Olympic gold medal at the 2008 Olympics.
Phil Chenier, who had Lawson's job the past 33 years, will be a second analyst for some games and do pre- and postgame work. Ex-NBA player Drew Gooden also joins the network for some games.
Copyright CSNPhily