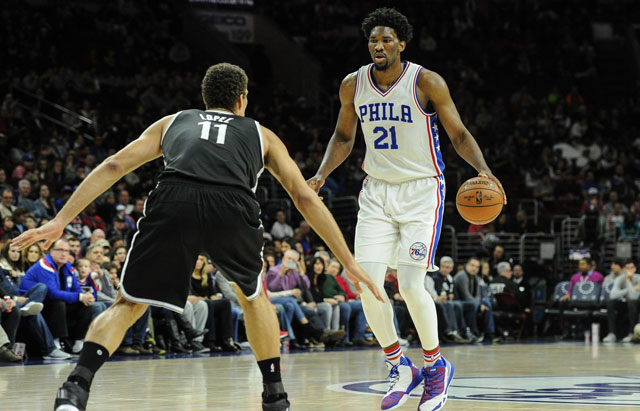 The Philadelphia 76ers' big man situation is officially in a state of disaster. After two games of playing ten minutes or less, the situation between Nerlens Noel and the Sixers has gotten so bad that he's been removed from the team's playing rotation altogether, and indeed got the first healthy scratch of his career last night at home against the Brooklyn Nets. From Brett Brown's comments on the matter, the benching appears to be at least largely punitive, a way to show our disgruntled young big that his attitude will need to improve before his playing time does.
The situation seems unlikely to improve as long as both Okafor and Noel are on the roster, especially as Okafor continues a sophomore campaign that remains more frustrating than promising, capped last night with an 0-10 FG performance against Brooklyn. Add to that an out-of-position Dario at small forward, shooting 6-23 over four games since Nerlens' return to the active roster, a gimpy Nik Stauskas missing time with knee soreness, and Ben Simmons's return from foot surgery still on an uncertain timetable, and the Sixers' prospect situation would appear to be in a state of near-crisis, with seemingly all of our blue-chip players acquired during the Process era either disgruntled, ineffective, or out of commission.
Philadelphia 76ers
Complete coverage of the Philadelphia 76ers and their rivals in the NBA from NBC Sports Philadelphia.
And yet, the performance of our other remaining young guy threatens to make all of these issues moot. We said going into the season — at least, I said, repeatedly and loudly — that the health and the performance of Joel Embiid was quite definitively the only thing that mattered for the Sixers this year. I didn't expect that the team would test this theory quite so empirically, but while the rest of the franchise was in flames last night at home last night against the Brooklyn Nets, JoJo rose above with the most dominant performance of his young career, and likely of any Sixers rookie since Iverson was stringing together 50-pointers and crossing over GOATs. And now, maybe, the season is an unqualified success.
The Process scored a season-high 33 points on 12-17 shooting, doing it just about every way he knows how -- face-up jumpers, elite post moves, top-of-the-arc threes, even an alley-oop slam or two. He made up for his weak rebounding of late with ten boards (including the game-sealer late, even though he had an opportunity for a game-securing board stripped a play earlier), and also racked up a combined five steals and blocks despite still playing out of defensive position. After the first mini-slump of Embiid's Sixers tenure, the phrase "rookie wall" had to be in play for a guy who'd barely played a dozen competitive basketball games over the three years prior. But if such a wall exists, last night was Embiid bursting through it like the Kool-Aid Man, and we will never doubt again.
The Sixers won, by the way, if you're into that sort of thing -- 103-102 over the now 7-19 Nets, who have the league's worst point differential -- also giving us seven wins for the season. The seven Ws ties the total for the most we've had before the New Year since Our Once and Always Dark Lord took over, with five games (four against sub-.500 teams) still remaining on the 2016 schedule. Undoubtedly, this has been a season of Progress for the Process, even with all the big-man drama and health issues.
But really, it all just comes back to that flow chart. There's a ton to unpack and sort out from the Nerlens drama, but as long as we're continuing to squeeze the world into a ball and roll it towards that overwhelming question, everything's fine as long as we're answering in the affirmative. Trust we seek, and we find in JoJo. Nothing else matters.
Copyright CSNPhily