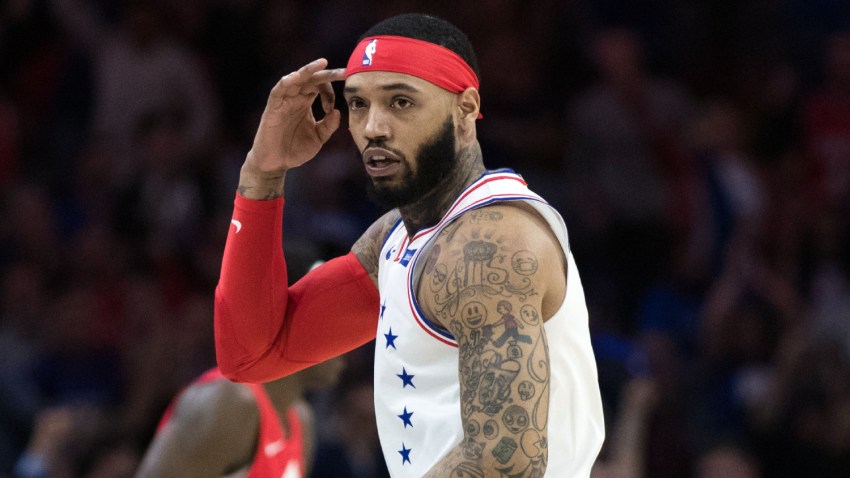 Wait ... Nike did what?
Yep. Those cool "ninja"-style headbands that had a portion of the league looking like Michelangelo, Donatello and Leonardo (minus the pizza and a rat named Splinter) are a thing of the past. Before you start coming for me, Raphael wasn't even that nice.
Philadelphia 76ers
Complete coverage of the Philadelphia 76ers and their rivals in the NBA from NBC Sports Philadelphia.
Mike Scott inadvertently broke the news on Twitter Friday afternoon, responding to a comment from a follower who was also in disbelief.
It's ova wit 🤦🏿‍♂️ https://t.co/4pW2W6jqBP— Mike Scott (@mikescott) September 6, 2019
It was a hit or miss trend among some fans and NBA players alike, but NO ONE - and I mean not a single person in any other fan base - has more of an intimate connection to this moisture-wicking piece of fabric than the Mike Scott Hive (MSH).
I mean, imagine tattooing a bee with a head tie on your thigh or arm to celebrate the uniqueness and individuality of Mr. Cash Out, Mr. "I ain't no b----," and then the company who makes them calls the jawns "unprofessional" and discontinues the product.
Does that make your tattoo a throwback? Who at Nike is killing trends and delving out this lackluster advice? The Hive is swarming though and ready to cook some beef at Nike headquarters.
Scott admitted the news stung a bit when he heard it Friday, but despite a body decorated with tattoos, he made it clear that a headband tatt is not in his future.
Definitely won't https://t.co/rxktUyy59d— Mike Scott (@mikescott) September 6, 2019
While it's possible that one of the MSH goes all-out and gets a permanent hive reminder emblazoned across their forehead, it's unlikely - although I wouldn't rule it out completely. After all, Mike Scott's followers ain't no b-----s, just like their fearless leader.
Click here to download the MyTeams App by NBC Sports! Receive comprehensive coverage of your teams and stream the Flyers, Sixers and Phillies games easily on your device.
More on the Sixers
Copyright CSNPhily