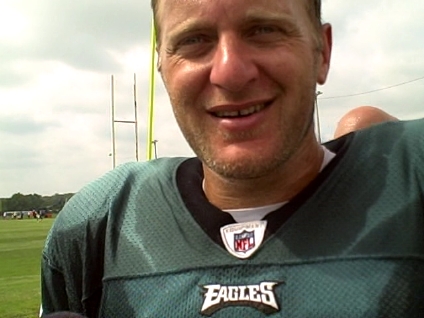 Eagles punter Sav Rocco made the leap from Australian Rules Football to the NFL but don't think that just because Sav's in the NFL that everyone back home has caught onto the American game.
He doesn't see a bunch of Eagles No. 6 jerseys back home in Preston.
"Unless I've given them out to my family and I sent my family around," he said with a laugh.
At 6-foot-5, 265 pounds, Sav isn't your prototypical punter and being from Australia he isn't the prototypical NFLer. But he isn't the only punter repping the Land Down Under in the NFL -- Arizona's Ben Graham and Dallas' Mat McBriar also hail from Australia.
And with the emergence of former Australian poochers in American football, the NFL has emerged in Sav's home country:
"Now that there are a couple of Australians playing there's certainly more of it shown back in Australia," he said with his native accent. Now you get four or five games a week, which compared to five years ago you might not get any."

"It's becoming a lot bigger over there."
Well with Ken Parrish challenging Sav for the Eagles punting job the 36-year-old could be in a battle to keep playing football in America. If he wins out maybe some of those fans back home in Preston will finally grab an Eagles jersey.
Each day of Eagles training camp NBCPhiladelphia.com will focus on different Bird trying to soar at Lehigh.