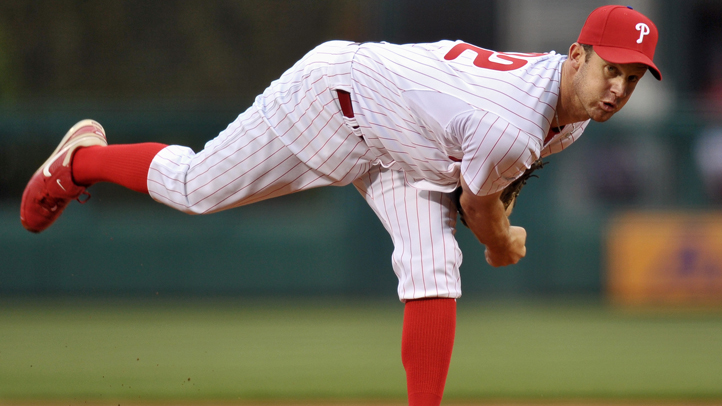 Although we are just past the halfway mark of 2011, it's never too early to look forward to next season, especially when it concerns some of the more pressing financial decisions that the Phillies front office has to face. With a bevy of players heading for free agency, the 25 man roster might look considerably different come April of 2012.

One of the bigger changes could be one affecting the rotation, which has been the cornerstone of the current club ever since Cliff Lee re-signed earlier this year. Most of the faces will be the same, including Lee, Roy Halladay, and Cole Hamels, but the biggest change is likely to be in the form of the gone-but-not-forgotten Roy Oswalt, who hasn't pitched in over a month thanks to a back injury that many thought would derail the righty for the rest of the season.

And while it is quite likely that he will be healthy enough to make another run at a World Series in 2011, that might be where his ride with the Phillies ends, considering that he has a $16 million mutual option that can be exercised to keep him on the payroll for one more season.

However, not even the lure of a big payday can keep the 33-year-old Oswalt from walking away from the game on his own terms, as the specter of retirement has been rumored to be looming over his head for some time. Mandy Housenick from The Morning Call has more:
"This [game] has been great to me and I have things that I thought I'd never have if I would have done something else," he admitted. "I guess a lot of people would say if they throw this big contract in front of your face you have to take it. But money doesn't bring happiness that you strive for in life.

"I'll kind of decide where I'm at after the season. I have to see if I can pitch. I'm not going to come back and sit on the DL. I'm not that type.

[But], right now, I really don't know where I'm at as far as what I'm going to do."


It's not a surprising thing to hear from Oswalt, who has spoke about hanging up the cleats after his current contract expires. That said, it's not as though this is going to be a huge blow for the Phillies, who were likely not going to pick up his option anyway.

Despite Oswalt being relatively young, the injury concerns, combined with a $16 million salary and a stretched payroll, it would make very little sense for the Phillies to take on his 2010 salary, considering their need -- or lack thereof -- for starting pitching.

With a couple months remaining in the season, it could be distinct possibility that we are seeing the grand finale of the fine career of Roy Oswalt.