A public viewing for legendary heavyweight boxer "Smokin'" Joe Frazier began on Friday at the Wells Fargo Center.
Frazier's body will by lying in state at the Center until 5 p.m. on Friday and from 10 a.m. to 1 p.m. on Saturday.
Frazier died Monday after a bout with liver cancer. He was 67.
On Wednesday Frazier's family released funeral details.
"This will be an opportunity for his many fans, supporters and boxing lovers from around the world to pay their final respects to Joe Frazier," his family said in a release.
Frazier's funeral will be a closed casket ceremony Monday at the Enon Tabernacle Baptist Church on Cheltenham Avenue. Guests can pay tribute to Frazier from 9 to 11 a.m. and the service will begin at 11, family said.
In lieu of flowers donations can be made in Frazier's name to the American Cancer Society:
Checks payable to ACS, Inc.
8400 Silver Crossing
Oklahoma City, OK, 73132
Frazier's arch rival in the ring, Muhammad Ali, will head to Philadelphia for the funeral. A spokesperson handling funeral details for the Frazier family tells NBC 10 that Ali will arrive in Philadelphia on Sunday and will attend Monday's services.
Sports
In partnership with NBC Sports Philadelphia
Frazier was born Jan. 12, 1944 in Beaufort, S.C. but would later live and train in Philadelphia where he operated his own boxing gym in his later years.
The Hall of Famer won the Olympic gold medal at the 1964 Tokyo Games.
He turned pro in 1965. He was the first man to beat Ali, knocking him down and taking a decision in the so-called "Fight of the Century" in 1971. He would go on to lose two more fights to Ali, including the epic "Thrilla in Manila" bout.
Earlier in the week, Larry Holmes talked about the incredible influence Joe Frazier had on his life and career. Frazier hired Holmes when he was 22 as a sparring partner, giving him his first big break.
"He hired me and paid me $375 a week and put me in the best hotel and gave me the best food and he picked me up every day to go run," Holmes said.
Though slowed in his later years and his speech slurred by the toll of punches taken in the ring, Frazier was still active on the autograph circuit in the months before he died. In September he went to Las Vegas, where he signed autographs in the lobby of the MGM Grand hotel-casino shortly before Floyd Mayweather Jr.'s fight against Victor Ortiz.
An old friend, Gene Kilroy, visited with him and watched Frazier work the crowd.
"He was so nice to everybody," Kilroy said. "He would say to each of them, 'Joe Frazier, sharp as a razor, what's your name?'"
Frazier was small for a heavyweight, weighing just 205 pounds when he won the title by stopping Jimmy Ellis in the fifth round of their 1970 fight at Madison Square Garden. But he fought every minute of every round going forward behind a vicious left hook, and there were few fighters who could withstand his constant pressure.
His reign as heavyweight champion lasted only four fights -- including the win over Ali -- before he ran into a slugger even more fearsome than himself. George Foreman responded to Frazier's constant attack by dropping him three times in the first round and three more in the second before their 1973 fight in Jamaica was waved to a close and the world had a new heavyweight champion.
Two fights later, Frazier met Ali in a rematch of their first fight, only this time the outcome was different. Ali won a 12-round decision, and later that year stopped Foreman in the Rumble in the Jungle in Zaire.
There had to be a third fight, though, and what a fight it was. With Ali's heavyweight title at stake, the two met in Manila in a battle that will long be seared in boxing history.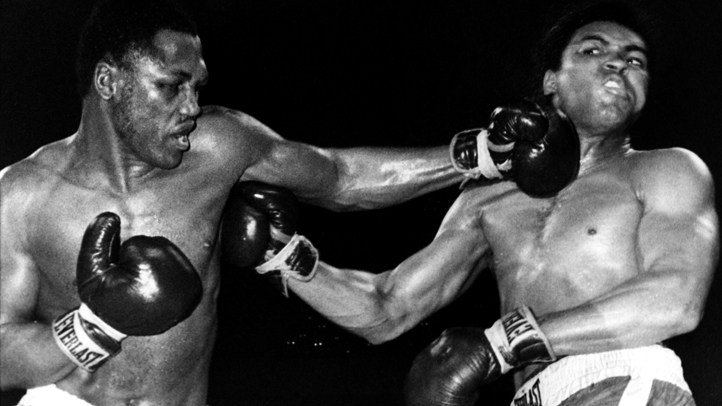 Frazier went after Ali round after round, landing his left hook with regularity as he made Ali backpedal around the ring. But Ali responded with left jabs and right hands that found their mark again and again. Even the intense heat inside the arena couldn't stop the two as they fought every minute of every round with neither willing to concede to the other one second of the round.
"They told me Joe Frazier was through," Ali told Frazier at one point during the fight.
"They lied," Frazier said, before hitting Ali with a left hook.
Finally, though, Frazier simply couldn't see and Futch would not let him go out for the 15th round. Ali won the fight while on his stool, exhausted and contemplating himself whether to go on.
It was one of the greatest fights ever, but it took a toll. Frazier would fight only two more times, getting knocked out in a rematch with Foreman eight months later before coming back in 1981 for an ill advised fight with Jumbo Cummings.
In spite of this, Frazier's legacy was solidified. "Smokin' Joe" will forever be known as one of the greatest fighters in boxing history as well as a champion, both in and out of the ring.