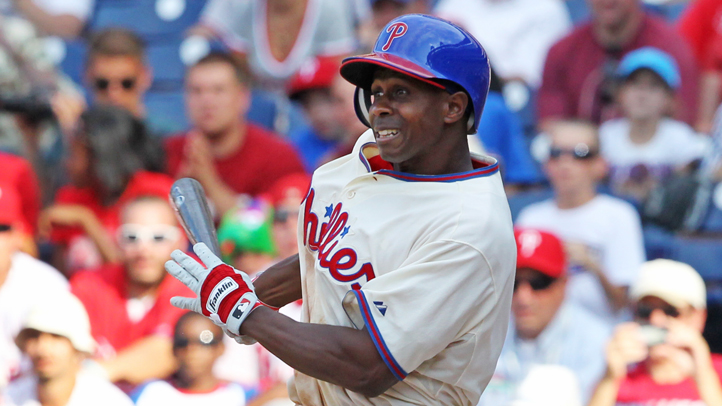 Juan Pierre beat out a run-scoring infield single in the 11th inning, lifting the Phillies to an 8-7 win over the St. Louis Cardinals on Sunday.

Jimmy Rollins reached against Barret Browning (0-2) on a fielder's choice. He advanced to second base on a grounder and then stole third.

Pierre hit one deep into the hole that shortstop Rafael Furcal made a great stab at and fired to first. Pierre just beat the throw to score Rollins and help the Phillies win two of three against the Cardinals.

Philadelphia's Erik Kratz hit a three-run homer off Mitchell Boggs in the eighth that tied the game 7-all.

Ryan Howard also homered for the Phillies. Matt Carpenter had three RBIs for the Cardinals.

Jeremy Horst (2-0) tossed two scoreless innings for his first major league victory in a game that lasted 3 hours, 53 minutes.

Kratz continued his role as unlikely star for the Phillies and delivered one of his biggest hits yet.

Chase Utley and Howard walked against Marc Rzepczynski to lead off the eighth.

Kratz then connected for the tying homer to left that sent the crowd into a frenzy.

The 32-year-old Kratz was a minor league journeyman pressed into the big leagues when reserve catcher Brian Schneider was injured. Kratz has become a fan favorite because of his instant production (9 of first 13 hits for extra bases) and feel-good story.

His tying shot was the breakthrough the Phillies needed against a tough Cardinals bullpen.

Jon Jay hit a tiebreaking double in the eighth inning and Carpenter followed with an RBI single to make it 7-4.

Cardinals relievers had held the Phillies scoreless until the eighth after they scored four runs against starter Lance Lynn.

Howard, who missed 84 games after rupturing his left Achilles tendon while making the final out of the NL division series last October, had little to worry about on his home run trot. His solo shot to left-center, his seventh, tied the game at 4 in the fourth inning. The game appeared headed toward a back-and-forth high scoring game _ and returned to that flavor over the final three innings.

Lynn entered leading the National League with a 6.77 run support average and his 23rd start of the season was trending that way.

The Phillies roughed up Lynn with a three-run third. Utley's two-RBI triple made it 2-1 and Howard followed with a shot off second baseman Daniel Descalso's glove for a run-scoring single.

Lynn, a 13-game winner, allowed four runs in five innings and is winless in his last three starts.

The Cardinals did what they could to put Lynn in position for win No. 14. Carlos Beltran doubled to right for his NL-best 83rd RBI in the third to cut it to 3-2.
The Cardinals scored the tying run in the fourth on a throwing error by Kratz and went up 4-3 on Carpenter's RBI single to center.

Carpenter wasted little time putting the Cardinals up 1-0 in the first when he ripped one into the right-center gap for an RBI double.

Vance Worley has just one win in his last five starts and had another rough outing Sunday. He allowed nine hits and four runs in 5 1-3 innings _ one start after he was chased by Atlanta in the fourth inning. He's battled bone chips that caused a stint on the DL and a string of mediocre starts.
---

Fan, follow and download: Get the latest from NBC10.com anytime, anywhere. Follow us on Twitter, Facebook and NBC Philadelphia. Sign up for our sports newsletter. And, get breaking news delivered right to your mobile phone -- just text PHIBREAKING to 639710 to sign up. (Message and data rates may apply.)
Copyright AP - Associated Press