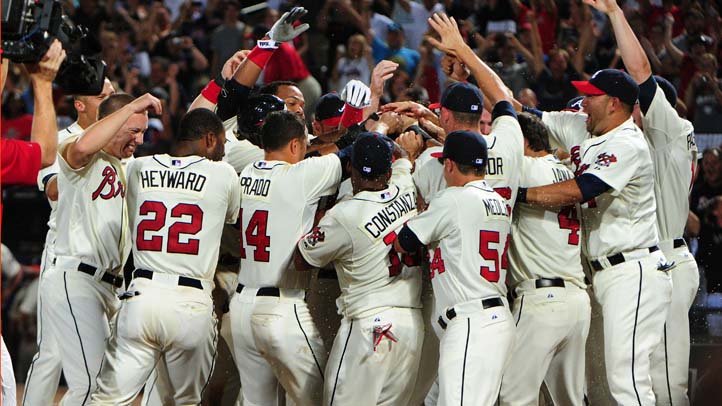 Chipper Jones hit a three-run homer off Jonathan Papelbon with two outs in the ninth inning, capping a five-run rally that sent the Atlanta Braves over the Philadelphia Phillies 8-7 on Sunday.

The Phillies led 7-3 entering the ninth and seemed set to complete a three-game sweep.

Instead, the Braves boosted their wild-card position, coming back against Jeremy Horst and Papelbon (3-6).

Reed Johnson singled off Horst with one out for his third hit and Paul Janish walked. Papelbon struck out pinch hitter Lyle Overbay before walking Michael Bourn to load the bases.

Martin Prado's grounder skipped past third baseman Kevin Frandsen for a two-run double before Jones hit his 14th home run deep into the right-field seats.

The blown save was the fourth in 35 chances for Papelbon.

Peter Moylan (1-0) got one out for the win.

Eric Kratz hit a three-run double and Ryan Howard drove in two runs with a double as the Phillies took a 5-0 lead against Paul Maholm.

Pitcher Cole Hamels added a two-run double in the third as the Phillies made it 7-1. Hamels gave up three runs on six hits and two walks in six innings.

Maholm left without recording an out in the third inning for his shortest start of the season. He gave up seven runs on six hits and three walks.

The Phillies hit six doubles, including three in the big first inning.

Johnson drove in three runs for Atlanta. He had an RBI double in the second and a two-run single in the sixth.

Bourn made a leaping catch at the center-field wall on a drive by Chase Utley to open the sixth.
Copyright AP - Associated Press