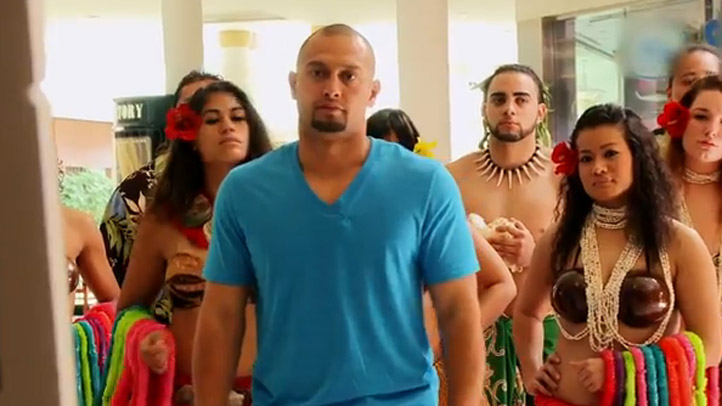 As a 10-year vet of the advertising industry, there are few things I enjoy more than when a local business pays a local athlete to do an awkward, cheaply shot commercial, complete with star wipes and canned stock music that could easily be used in a pornography film. So I was more than happy to stumble across this new ad for Modell's featuring the Phillies Shane Victorino.
Victorino, if you were unaware, comes from Hawaii. So Modell's decided to have him walk into the King of Prussia Mall with a bunch of crazy Hawaiian dancers to announce that the store was moving within the mall. Why do they need to advertise that the store has moved within the mall, when signage on the old storefront will do 99 percent of the heavy lifting for them? Hey, it's not money.
Anyway, let's grade some of the elements in this spot.
BAD ACTING: Victorino doesn't actually talk in this spot, and that's probably for the best, seeing as how he looks remarkably uncomfortable on camera anyway. He really is walking into the mall with this weird entourage and having people stare at him, so I can't say I blame him for being uneasy. But I admire the way he communicates bad athlete acting without even having to say a word. It's like a Buster Keaton movie, only the precise opposite. GRADE: B
CHEAP GRAPHICS: Frankly, I was hoping for a bit more pizzazz with these cheap graphics. More colored fonts. More white outlines on the letters to make it look like it was cut on an Avid machine from 1982. Alas, all we get is a rote title card at the end. GRADE: D
COSTUMES: Victorino is wearing Aquaman's casual wear, while some of the dancers are forced to wear replica coconut bikini tops. Take a look. It's a plastic coconut shell. That's good spendin'! GRADE: A

OVERALL EFFECTIVENESS: B

Well, I definitely know that Modell's is in a new location now. AND I know that Shane Victorino ALSO knows it's there, which is comforting. I'd hate to see him and his hula crew go without Under Armour.