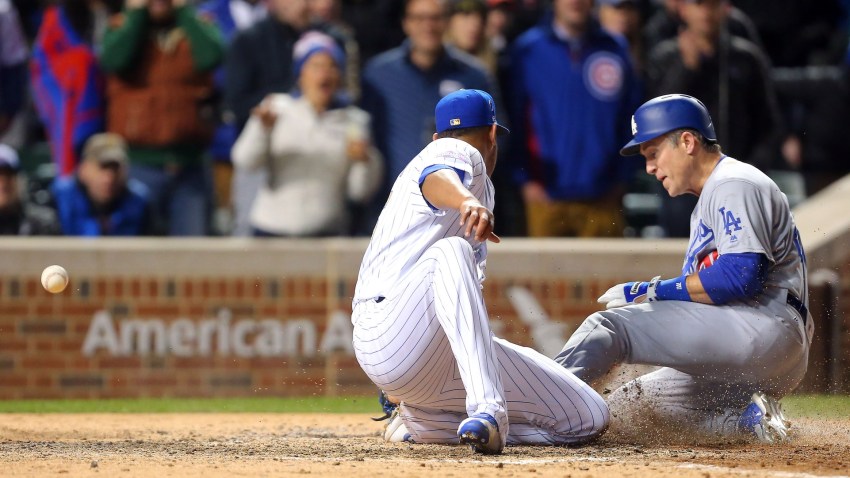 After watching the Phillies get swept by the New York Mets at home, I think we could all use a moment of Chase Utley to remind us that we can have nice baseball things in Philadelphia.
Philadelphia Phillies
Complete coverage of the Fightin' Phils and their MLB rivals from NBC Sports Philadelphia.
Sure, Utley is doing it for the Dodgers these days, but if there's ever a guy we can all root for once he has left us, it's Chase "WFC" Utley.
Utley was The Man on the base paths last night in the Dodgers' 2-0 over the Cubs at Wrigley that spoiled some of the Chicago Championship fun.
Here's how the LA Times described the play where Utley scored from first ON A STRIKEOUT:
Utley does not like the attention. But his performance still offers lessons for instruction, like in the ninth inning of a 2-0 victory over the Cubs on Wednesday, when Utley scored from first base after a dropped third strike and a throwing error. He barreled through the 6-foot-3, 230-pound frame of Chicago reliever Hector Rondon to score the insurance run.

"He would run through a brick wall," shortstop Corey Seager said. "And he basically did."
Man. Miss that guy.
Now, Utley's hustle aside, he isn't off to the hottest of starts for the Dodgers. Chase has just one hit and one walk in 17 plate appearances this season. He has scored twice.
Chase Utley's mad dash. (via @MLB) pic.twitter.com/IGh1A0MBdS — Chavez Ravine Fiends (@RavineFiends) April 13, 2017
Copyright CSNPhily