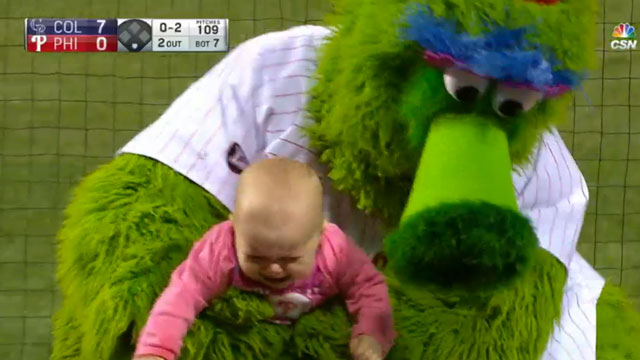 Philadelphia Phillies
Complete coverage of the Fightin' Phils and their MLB rivals from NBC Sports Philadelphia.
What is there to say about the Philadelphia Phillies?
In doing my usual postgame perusal of the Internet after their 7-2 loss on Wednesday night, I visited Phillies.com to see what kind of "highlights" they could have possibly posted from another crushing defeat at the hands of the Colorado Rockies.
Thankfully, the first thing that caught my eye was a video titled, "Phanatic tries to comfort crying baby."
It was not Larry Andersen. Nor me.
And that's the Phillies season in a nutshell.
The Phillies now have the worst record in all of baseball. They're 4-20 in their last 24 games. It's their worst start to a season since 1960.
Even the Phanatic doesn't have enough popcorn to make the pain of this all go away.
If you want to read about the upbeat approach Pete Mackanin is taking, go give this a gander.
"In a long season, these things sometimes happen," Mackanin told reporters. "I remember Atlanta, the first half last year, was terrible. They had a real good second half. I believe we just need to get something going. We're going to put something together. I believe that."
That makes one of us.
Copyright CSNPhily