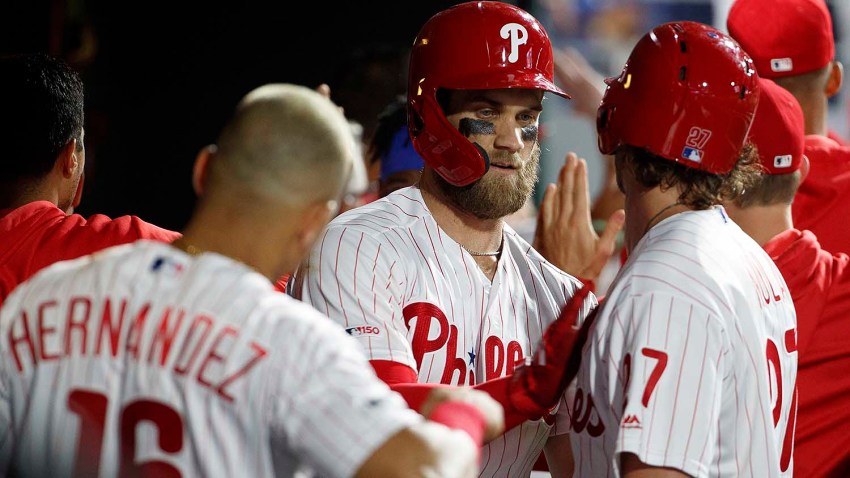 Monday night's win was the Phillies' 40th game of the season and at the quarter-pole, they are on a 97-win pace with the sixth-best record in baseball.
They've managed to go 24-16 despite lackluster six-week stretches from Bryce Harper and Aaron Nola, the two players many considered their most important entering the season.
Harper is hitting .222/.367/.438 and leads the majors with 54 strikeouts. He is on a track to strike out 50 more times than he ever has. His 19 multi-strikeout games are three more than any player in the majors has.
Philadelphia Phillies
Complete coverage of the Fightin' Phils and their MLB rivals from NBC Sports Philadelphia.
Early-season struggles are not new to Harper. He entered last year's All-Star break hitting .214. Three of his last four Mays have been among his weaker months. The big difference this season is the strikeout rate. Harper averaged 141 strikeouts per 162 games in his first six seasons. But since the start of 2018, that rate has risen to 182 K's per 162 games.
Phillies GM Matt Klentak isn't overly concerned, although few GMs would let on if they were.
"I don't love strikeouts offensively but I think strikeouts when they're balanced out with a high walk rate, are OK," Klentak said Tuesday. "You don't want to have your entire lineup doing that, that's where you need to have some balance with guys like Jean Segura and Cesar Hernandez and J.T. Realmuto, our more contact-oriented guys.
"I also don't think Bryce is going to strike out at this clip all year. He has had stretches before where he's struck out a lot or struggled and he's always come back from that. ... Bryce is OPS'ing .800. He has had years where he's OPS'ed in the .800s. So what he's doing is not so out of whack with what he's done historically.
"I do think we will see better stretches from him. ... Great players will typically find their groove."
Klentak made sure to point out that Harper is still contributing with walks, which is true. He leads the National League with 31. When he and Rhys Hoskins are slumping, they both provide value by using their disciplined eyes to get on base. In a lineup as deep as the Phillies', getting on base can be enough on some nights. This team is, after all, in the top five in the majors in batting average, OBP, OPS and extra-base hits with men on base.
"It's hard for players to really get into prolonged slumps when they have the patience that Bryce has," Klentak said.
Another encouraging factor for the Phillies is that they have not arrived at this 24-16 record with many unsustainably hot starts. Segura is hitting .302/.343/.444 compared to .308/.353/.449 the last three seasons. Andrew McCutchen's numbers are in line with where they were a year ago. Realmuto enters Monday with an almost identical batting average and OBP to last year, just with less power.
The biggest regression candidates are Zach Eflin (2.47 ERA), Adam Morgan (1.26), Jerad Eickhoff (1.50) and Rhys Hoskins (hitting 30 points higher than the last two seasons). But those are balanced out by the expected positive regression from players like Harper and Nola.
"One of the things that we've seen is this team is capable of beating you in a variety of ways," Klentak said. "We haven't had a perfect first 40 games but by and large, it's been pretty good."
Copyright CSNPhily