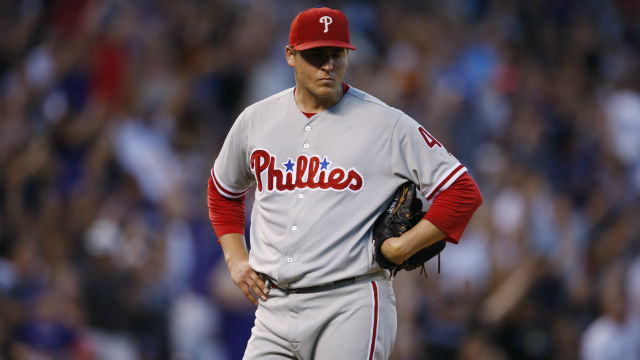 Jerad Eickhoff's first outing in hitter-friendly Coors Field was going off without a hitch until it suddenly unraveled.
"He just lost his command and it happens," Phillies manager Pete Mackanin said Saturday night after Philadelphia's 8-3 loss to the Colorado Rockies (see game recap).
Philadelphia Phillies
Complete coverage of the Fightin' Phils and their MLB rivals from NBC Sports Philadelphia.
"He just didn't throw the ball where he wanted to, simple as that. That kind of thing happens. I've seen it happen many times before to various pitchers. They're cruising and all of a sudden, something happens and they kind of lose it."
Eickhoff (6-10) had blanked the Rockies into the fifth inning trying to hold onto a 2-0 lead. With two outs in the fifth, Tony Wolters singled and Eickhoff's Rockies' counterpart, Tyler Anderson, who had singled earlier for his first big league hit, followed by driving Eickhoff's first pitch into the right field bleachers for his first career homer.
After reviewing tape of his pitch to Anderson, Eickhoff said that he had no regrets about that particular offering.
"It was in, off the plate, a slider, the first pitch, so you've just got to tip your cap there," Eickhoff said. "He got a good swing on it, and put it out."
The sixth inning, he conceded, was a different story. The Rockies added six runs in the sixth, sending 10 men to the plate.
Eickhoff faced seven and all but one reached. The one who didn't, Carlos Gonzalez, snapped a 2-2 tie with a run-scoring groundout.
The Rockies added runs on bases-loaded walk, a three-run triple by Wolters, and an RBI double by pinch hitter Brandon Barnes off Severino Gonzalez after he had relieved Eickhoff.
"Into the sixth inning there, I kind of missed my location, missed my spots, missed on my slider, getting in bad counts," Eickhoff said. "I'd miss with my offspeed, so I've got to go fastball. I wasn't able to locate where I wanted."
Colorado's thin-air also may have factored into Eickhoff's sudden loss of command, preventing him from throwing an effective curveball.
"I didn't have my best curveball tonight, and that could have affected things a little bit, too," he said. "I couldn't go to it as much as I would have liked. Other than that, I think my slider was good enough to keep them off balance but I just wasn't able to execute it when I needed to in the sixth inning."

Copyright CSNPhily